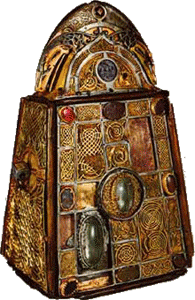 Welcome to the website of Upper Creggan Parish – and thank you for finding us. In this era of ever growing means of communication, our website aims to keep all members of our parish community, past and present; those here at home and those who have travelled to far-off shores; and our many friends, fully informed and up-dated on many aspects of parish life, ministries and services. In particular, we hope it will enable the sick and housebound and our many young emigrés to stay in touch with parish life through the weekly news sheet and other regular information updates.
For quite some years now all liturgies at our three parish churches are broadcast on radio. The website is an additional tool to help all whose lives are already busy to stay in touch with YOUR Parish.
Enjoy your time looking around our website and if you like what you see or find it useful, please come back again soon.
Until then, may God keep us all true to Him, as together we seek to make His Kingdom come.
Fr Dermot Maloney, PP
Public Masses resume in our Parish – at reduced capacity
We are delighted to get to this stage and are grateful for the help and understanding of all.
Capacity in all our Churches is limited.
Stewards will be on duty at the Saturday Vigil and Sunday Masses – they are there to help us all.
As with our daily lives, Social Distancing and Hand Sanitising procedures are in place – we ask you to respect and adhere to these.
In all our Churches on Sundays, outside loudspeakers will be in operation for those who may be unable to get in to the Church due to the capacity limit. Eucharistic Ministers will be at the doors for those who are attending Mass outside and wish to receive Holy Communion.
Many are delighted, and understandably many also are nervous; to that end we remind you the Sunday Obligation remains suspended.
All Masses in St. Patrick's Church are broadcast on the webcam and can be viewed at http://www.uppercreggan.co.uk/webcam.php
It is our intention to keep our Churches open for Private Prayer:
St. Patrick's, Crossmaglen : after Mass to 6 p.m. daily
St. Brigid's, Glassdrummond : 12 noon to 6 p.m. Sunday & Wednesday
Sacred Heart, Shelagh : 12 noon to 6 p.m. Sunday & Wednesday
Let us pray for one another
Let us care for one another
Church of St. Patrick, Crossmaglen

Church of St. Brigid, Glassdrummond

Church of the Sacred Heart, Shelagh

Saturday Vigil

6.30 p.m.

7.30 p.m.

Sunday

12.00 noon

9.00 a.m.

10.30 a.m.

Mon - Sat

10.00 a.m. *

* Weekday funeral Mass replaces at 11.00 a.m.
Stewards Meetings:
Wednesday 8th July : St. Patrick's Church at 7.00 p.m.
Thursday 9th July : St. Brigid's Church at 7.00 p.m.
Thursday 9th July : Sacred Heart Church at 8.15 p.m.
Sunday 5th July : 14th Sunday in Ordinary Time
To know the Father and the Son we must become pupils in the school of Christ. The way of Christ is one of humility and gentleness. Intellectual pride and arrogance are not to be seen in the Christian. The teachings of Christ are to be learnt with humility and in prayer.
See our page "Sunday Mass Readings"
Monday 6th July
St. Maria Goretti (1890-1902)
Born in Ancona, Italy on 16th October 1890. At the age of 12 her neighbour Alessandro attacked her; when she said that she would rather die than submit to him he stabbed her. She died in hospital having forgiven him. He was sentenced to 30 years in prison. On release he went to her mother to beg her forgiveness to which she replied "If my daughter can forgive him, who am I to withhold forgiveness?". Maria Goretti was canonised by Pope Pius XII in 1950; both her mother and Alessandro were at the ceremony. Patron of youth, young women and victims of rape.
St. Moninne of Killeavy
One of Ireland's early women saints. After instruction on the religious life, she founded a community that initially consisted of eight virgins and a widow with a baby at Sliabh Gullion, Co. Armagh. They lived an eremitical life, based on that of Elijah and St. John the Baptist.
Tuesday 7th July : St. Maelruain
Bishop of Abbot, he founded the monastery of Tallaght, Co. Dublin in 774. Important liturgical and spiritual writings emerged from this movement known as the Célí Dé reform. He died in 792.
Wednesday 8th July : St. Kilian
He was born in the parish of Mullagh in the diocese of Kilmore. With eleven companions he left Ireland and became known as the apostle of Thuringia and Eastern Franconia (regions in Germany). With Kolonat and Totnan he was put to death in 689. There is a very strong devotion to him in Würzburg (where his remains lie) and also throughout the Bavarian countryside.
Saturday 11th July : St. Benedict (480-547)
After living as a hermit at Subiaco, he founded the monastery of Monte Cassino. His Rule, observed by Benedictines and Cistercians, is distinguished by its wisdom and balance and those who lived by it did much to shape the Europe of today. He was named patron of Europe in 1964. In our modern world, we talk fast, we travel fast, and we even pray fast. Our impatience to get to the end, our focus on completion rather than process is a real danger in reading Scripture when every word is from God and has a power all its own. Benedict knew that power because he took the time to let it work within him. He died in 547 while standing in prayer before God. (His sister is St. Scholastica - feast 10th February)
If you are looking for meaning in life but, not finding one, you throw yourself away with "imitations of love", such as wealth, career, pleasure, or an addiction, let Jesus look at you, and you will discover you have always been loved.
Pope Francis, 27/06/2020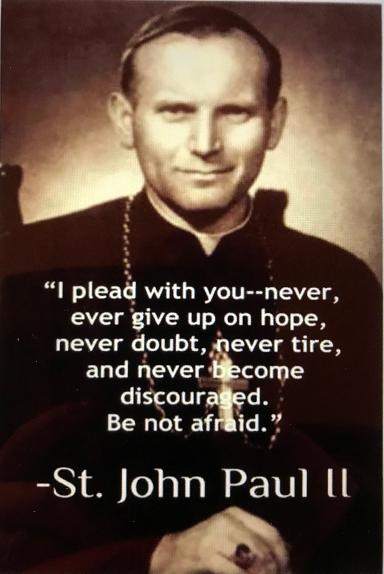 BEREAVEMENT
SUICIDE
DEPRESSION
DON'T DEAL WITH IT ALONE . . . .
SEE SECTION : "PERSONAL HELPLINES"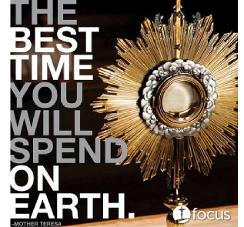 WEEKLY EUCHARISTIC ADORATION
Wednesday only from 11.00 a.m. - 8.00 p.m.
in Parish Rooms, Crossmaglen.
Everyone welcome, not just rota members.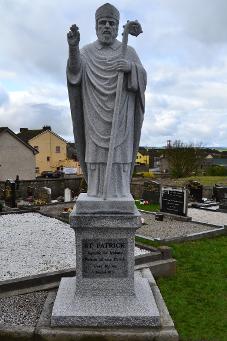 Christ be with me, Christ within me,
Christ behind me, Christ before me,
Christ beside me, Christ to win me,
Christ to comfort and restore me.
Christ beneath me, Christ above me,
Christ in quiet, Christ in danger,
Christ in hearts of all who love me,
Christ in mouth of friend and stranger.
(St. Patrick's Breastplate)
The statue of St. Patrick (Patron of our Parish), erected March 2012, at the front of St. Patrick's, Crossmaglen