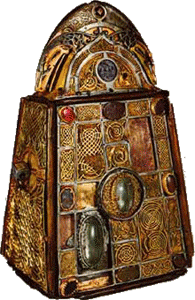 Welcome to the website of Upper Creggan Parish – and thank you for finding us. In this era of ever growing means of communication, our website aims to keep all members of our parish community, past and present; those here at home and those who have travelled to far-off shores; and our may friends, fully informed and up-dated on many aspects of parish life, ministries and services. In particular, we hope it will enable the sick and housebound and our many young emigrés to stay in touch with parish life through the weekly news sheet and other regular information updates.
For quite some years now all liturgies at our three parish churches are broadcast on radio. The website is an additional tool to help all whose lives are already busy to stay in touch with YOUR Parish.
Enjoy your time looking around our website, especially our Photo Gallery and, if like what you see or find it useful, please come back again soon.
Until then, may God keep us all true to Him, as together we seek to make His Kingdom come.
Fr Dermot Maloney, PP
Sunday 12th August : 19th Sunday in Ordinary Time
The living bread come down from heaven is the flesh of Christ given up for the life of the world. The sacrifice of Christ on the Cross gives life. In the strength of the bread of the Eucharist we can make our pilgrim journey through life to the kingdom.
I am the living bread which has come down from heaven, says the Lord. Anyone who eats this bread will live forever.
Jn 6:51
Monday 13th August : St. Fachtna
(also called Fachanan). He was founder of the monastery of Ross Carbery (Ross Ailithir). He died around 600. His monastery became the principal monastery of west Cork and later had a famous scripture school.
Tuesday 14th August : St. Maximilian Kolbe (1894-1941)
Born Raymond Kolbe. He became a Franciscan and took the name Maximilian Mary. He was filled with a very Polish devotion to the Virgin Mary. He contracted tuberculosis and though he recovered remained frail all his life. After the Nazi invasion of Poland in 1939 he was imprisoned and released for a time. He was arrested again in February 1941 and the following May sent to the concentration camp in Auschwitz. A prisoner escaped one day the following July. In reprisal for this escape, the deputy camp commander selected 10 men to be starved to death in an underground bunker. One man selected was Fransiszek Gajowniczek. In reaction, he cries our in despair lamenting the fact that he would never see his wife and children again. Fr Kolbe stepped forward and said to the officer "I am a Polish Catholic priest. I am old, I want to take his place, because he has a wife and children." Gajowniczek was returned to the prisoners and Fr Kolbe along with 9 other men was sent to the bunker. After two weeks of starvation 5 prisoners remained. The director of the camp infirmary was called and he gave each of them an intravenous injection of poison acid. Fr Kolbe died on 14th August - his remains cremated the following day, feast of the Assumption of the Blessed Virgin Mary. He was beatified in 1971 and canonised in 1982 by Pope St. John Paul II. Gajowniczek was present at the canonisation.
Wednesday 15th August : Assumption of the Blessed Virgin Mary
Today the Church celebrates Mary's glorious Assumption body and soul into Heaven. The two dogmas of the Immaculate Conception and the Assumption are closely related. Both proclaim the glory of Christ the Redeemer and the holiness of Mary, whose human destiny is even now perfectly and definitively realised in God. "When I go and prepare a place for you, I will come again and will take you to myself, that where I am, there you may be also" (Jn 14:3). Mary is the pledge of the fulfilment of Christ's promise. Her Assumption thus becomes for us "a sign of hope and consolation". Pope St. John Paul II, Lourdes, 15/08/2004
Thursday 16th August : St. Stephen of Hungary (975-1038)
First King of Hungary and its patron saint, worked for the conversion of his people to Christianity.
Friday 17th August : Our Lady of Knock
The story of Knock began on the 21st August 1879 when Our Lady, St. Joseph and St. John the Evangelist appeared at the south gable of Knock Parish Church. This miraculous apparition was witnessed by fifteen people, young and old. Knock is an internationally recognised Marian Shrine and was visited by Pope St. John Paul II as part of his 1979 papal pilgrimage to Ireland. Pope Francis, during his Apostolic visit to Ireland is due to pray the Angelus there 26/08/'18.
Evil tries to convince us that death is the end of everything. But the Risen Christ reveals a new dimension of eternal life!
Pope Francis, 08/08/2018
World Meeting of Families 2018 Prayer
God, our Father,
we are brothers and sisters in Jesus your Son,
one family, in the spirit of your love.
Bless us with the joy of love.
Make us patient and kind,
gentle and generous,
welcoming to those in need.
Help us to live your forgiveness and peace.
Protect all families with your loving care,
especially those for whom we now pray:
(we pause and remember family members and others by name).
Increase our faith,
strengthen our hope,
keep us safe in your love,
make us always grateful for the gift of life that we share.
This we ask, through Christ our Lord.
AMEN
Mary, mother and guide, pray for us.
Saint Joseph, father and protector, pray for us.
Saints Joachim and Anne, pray for us.
Saints Louis and Zélie Martin, pray for us.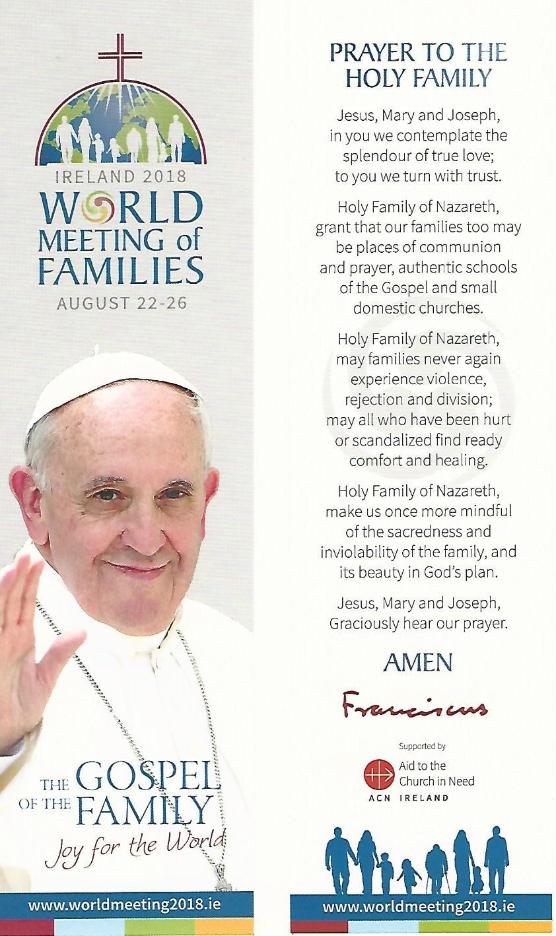 BEREAVEMENT
SUICIDE
DEPRESSION
DON'T DEAL WITH IT ALONE . . . .
SEE SECTION : "PERSONAL HELPLINES"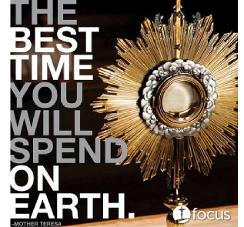 WEEKLY EUCHARISTIC ADORATION
Wednesday only from 11.00 a.m. - 8.00 p.m.
in Parish Rooms, Crossmaglen.
Everyone welcome, not just rota members.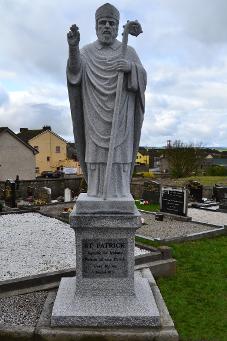 Christ be with me, Christ within me,
Christ behind me, Christ before me,
Christ beside me, Christ to win me,
Christ to comfort and restore me.
Christ beneath me, Christ above me,
Christ in quiet, Christ in danger,
Christ in hearts of all who love me,
Christ in mouth of friend and stranger.
(St. Patrick's Breastplate)
The statue of St. Patrick (Patron of our Parish), erected March 2012, at the front of St. Patrick's, Crossmaglen