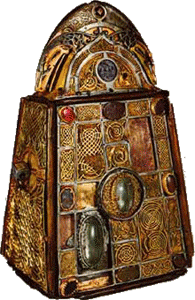 Welcome to the website of Upper Creggan Parish – and thank you for finding us. In this era of ever growing means of communication, our website aims to keep all members of our parish community, past and present; those here at home and those who have travelled to far-off shores; and our may friends, fully informed and up-dated on many aspects of parish life, ministries and services. In particular, we hope it will enable the sick and housebound and our many young emigrés to stay in touch with parish life through the weekly news sheet and other regular information updates.
For quite some years now all liturgies at our three parish churches are broadcast on radio. The website is an additional tool to help all whose lives are already busy to stay in touch with YOUR Parish.
Enjoy your time looking around our website, especially our Photo Gallery and, if like what you see or find it useful, please come back again soon.
Until then, may God keep us all true to Him, as together we seek to make His Kingdom come.
Fr Dermot Maloney, PP
Sunday 15th July : 15th Sunday in Ordinary Time
"He chose us in Christ to be holy and spotless." God's choice is free. His power is shown more clearly when those chosen have little to offer. Having nothing, they are able to live to praise the glory of his name. Jesus asks for detachment from all things in his disciples.
Before the world was made, God chose us in Christ
St. Paul to Ephesians 1:4
Monday 16th July : Our Lady of Mount Carmel
Our Lady of Mount Carmel is the title given to the Blessed Virgin Mary in her role as patroness of the Carmelite Order. The first Carmelites were Christian hermits living on Mount Carmel in the Holy Land during the late 12th and early 13th centuries. They built a chapel in the midst of their hermitage which they dedicated to the Blessed Virgin Mary, whom they conceived of in chivalric terms as the "Lady of the Place". Our Lady of Mount Carmel is the patron saint of Chile.
16th July is the anniversary of the death of Bishop Francis Lenny in 1978 (Auxiliary Bishop of Armagh)
Saturday 21st July : St. Lawrence of Brindisi (1559-1619)
Capuchin who preached the Counter-Reformation. He led German armies against the Turks in Hungary and gained peace for the people of Naples.
You too are like the Good Samaritan when you recognise the face of Christ in those near to you.
Pope Francis, 10/07/2018
World Meeting of Families 2018 Prayer
God, our Father,
we are brothers and sisters in Jesus your Son,
one family, in the spirit of your love.
Bless us with the joy of love.
Make us patient and kind,
gentle and generous,
welcoming to those in need.
Help us to live your forgiveness and peace.
Protect all families with your loving care,
especially those for whom we now pray:
(we pause and remember family members and others by name).
Increase our faith,
strengthen our hope,
keep us safe in your love,
make us always grateful for the gift of life that we share.
This we ask, through Christ our Lord.
AMEN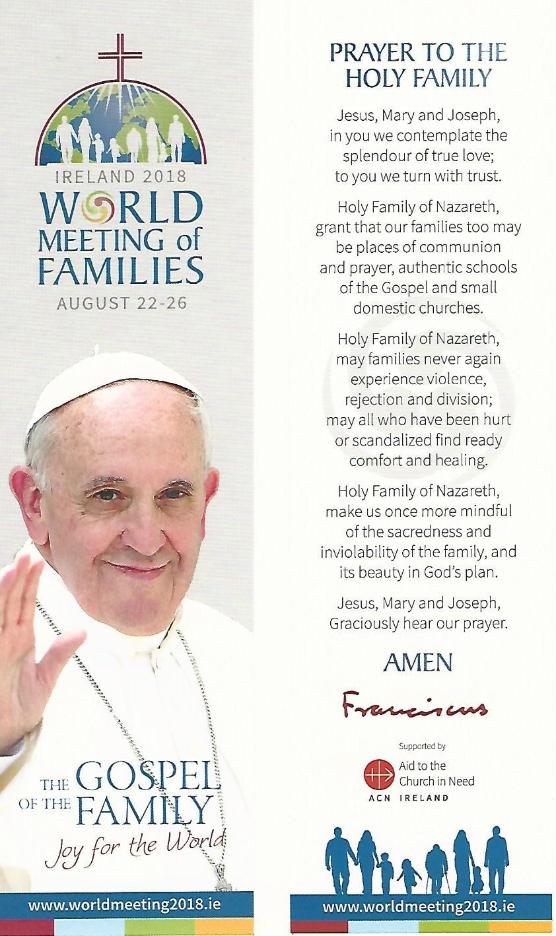 BEREAVEMENT
SUICIDE
DEPRESSION
DON'T DEAL WITH IT ALONE . . . .
SEE SECTION : "PERSONAL HELPLINES"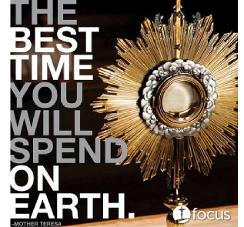 WEEKLY EUCHARISTIC ADORATION
Wednesday only from 11.00 a.m. - 8.00 p.m.
in Parish Rooms, Crossmaglen.
Everyone welcome, not just rota members.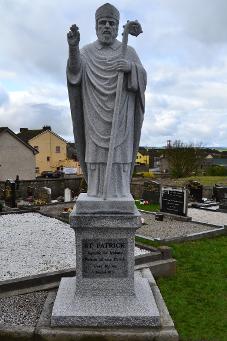 Christ be with me, Christ within me,
Christ behind me, Christ before me,
Christ beside me, Christ to win me,
Christ to comfort and restore me.
Christ beneath me, Christ above me,
Christ in quiet, Christ in danger,
Christ in hearts of all who love me,
Christ in mouth of friend and stranger.
(St. Patrick's Breastplate)
The statue of St. Patrick (Patron of our Parish), erected March 2012, at the front of St. Patrick's, Crossmaglen