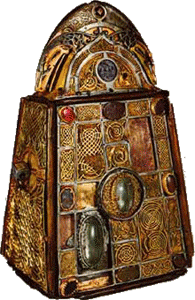 Welcome to the website of Upper Creggan Parish – and thank you for finding us. In this era of ever growing means of communication, our website aims to keep all members of our parish community, past and present; those here at home and those who have travelled to far-off shores; and our many friends, fully informed and up-dated on many aspects of parish life, ministries and services. In particular, we hope it will enable the sick and housebound and our many young emigrés to stay in touch with parish life through the weekly news sheet and other regular information updates.
For quite some years now all liturgies at our three parish churches are broadcast on radio. The website is an additional tool to help all whose lives are already busy to stay in touch with YOUR Parish.
Enjoy your time looking around our website and if you like what you see or find it useful, please come back again soon.
Until then, may God keep us all true to Him, as together we seek to make His Kingdom come.
Fr Dermot Maloney, PP
Friday 13th September : St. John Chrysostom (347-407)
He was one of the four great Greek Doctors, the "Golden-mouthed" preacher, was Archbishop of Constantinople. He incurred much opposition and died in exile. Patron saint of preachers.
"Make sure that you do not limit your prayer merely to a particular part of the day.
Turn to prayer at anytime."
"The Holy Scriptures were not given to us that we should enclose them in books,
but that we should engrave them upon our hearts."
Saturday 14th September : The Exaltation of the Holy Cross
The discovery of the True Cross is dated to 14 September 320. On 13 September 335 the churches on Calvary were dedicated and the cross that St. Helena discovered was venerated there the next day. The annual commemoration of that event has been celebrated since, in praise of the redemption won for us by Christ.
Sunday 15th September : 24th Sunday in Ordinary Time
Jesus gives three parables about the question of those who have wandered away and were lost and how the communities must rejoice when they return and are found.
There will be more rejoicing in heaven over one repentant sinner than over ninety-nine virtuous men who have no need of repentance.
Lk 15:7
Monday 16th September : St. Ninian
According to an unbroken tradition dating from the earliest times and confirmed in the writings of the Venerable Bede in the 8th century, a holy man named Nynia, born among the British people, introduced the Christian faith into a significant part of the land now known as Scotland long before the coming of Saint Columba. St. Ninian is acknowledged as Scotland's first saint with the date 397 AD celebrated as the beginning of his mission to his people.
Tuesday 17th September : St. Robert Bellarmine (1542-1921)
Jesuit, Cardinal Bishop of Capua, involved in theological controversies of the time. Patron of catechists.
Saturday 21st September : St. Matthew, Apostle and Evangelist
He is said to have been a missionary in Persia and Ethiopia. Patron of accountants, book-keepers, tax-collectors, customs officers and security guards.
Our life and our talents are the result of a gift woven between God and the many silent hands of persons whose names we will only know in Heaven.
Pope Francis, 08/09/2019

BEREAVEMENT
SUICIDE
DEPRESSION
DON'T DEAL WITH IT ALONE . . . .
SEE SECTION : "PERSONAL HELPLINES"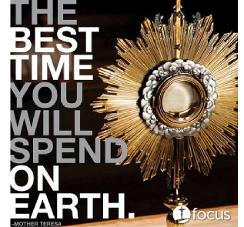 WEEKLY EUCHARISTIC ADORATION
Wednesday only from 11.00 a.m. - 8.00 p.m.
in Parish Rooms, Crossmaglen.
Everyone welcome, not just rota members.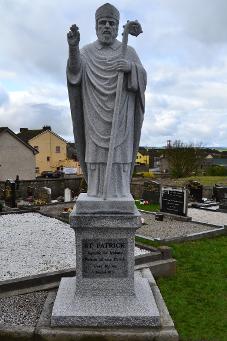 Christ be with me, Christ within me,
Christ behind me, Christ before me,
Christ beside me, Christ to win me,
Christ to comfort and restore me.
Christ beneath me, Christ above me,
Christ in quiet, Christ in danger,
Christ in hearts of all who love me,
Christ in mouth of friend and stranger.
(St. Patrick's Breastplate)
The statue of St. Patrick (Patron of our Parish), erected March 2012, at the front of St. Patrick's, Crossmaglen