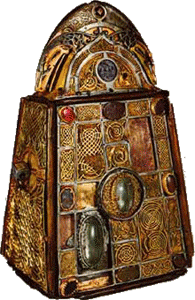 Welcome to the website of Upper Creggan Parish – and thank you for finding us. In this era of ever growing means of communication, our website aims to keep all members of our parish community, past and present; those here at home and those who have travelled to far-off shores; and our may friends, fully informed and up-dated on many aspects of parish life, ministries and services. In particular, we hope it will enable the sick and housebound and our many young emigrés to stay in touch with parish life through the weekly news sheet and other regular information updates.
For quite some years now all liturgies at our three parish churches are broadcast on radio. The website is an additional tool to help all whose lives are already busy to stay in touch with YOUR Parish.
Enjoy your time looking around our website, especially our Photo Gallery and, if like what you see or find it useful, please come back again soon.
Until then, may God keep us all true to Him, as together we seek to make His Kingdom come.
Fr Dermot Maloney, PP
Friday 17th August : Our Lady of Knock
The story of Knock began on the 21st August 1879 when Our Lady, St. Joseph and St. John the Evangelist appeared at the south gable of Knock Parish Church. This miraculous apparition was witnessed by fifteen people, young and old. Knock is an internationally recognised Marian Shrine and was visited by Pope St. John Paul II as part of his 1979 papal pilgrimage to Ireland. Pope Francis, during his Apostolic visit to Ireland is due to pray the Angelus there 26/08/'18.
Sunday 19th August : 20th Sunday in Ordinary Time
Wisdom invites us to eat her bread and drink her wine. Christ the true Wisdom invites us to eat his flesh and drink his blood. The life that the Father communicates to the Son comes to the faithful through the Eucharist.
Be very careful about the sort of lives you lead, like intelligent and not like senseless people. This may be a wicked age, but your lives should redeem it. And do not be thoughtless but recognise what is the will of the Lord.
St. Paul to the Ephesians 5:15-17
I am the living bread which comes down from heaven, says the Lord. Anyone who eats this bread will live forever.
Jn 6:51
Monday 20th August : St. Bernard (1090-1153)
He became a Cistercian monk at Citeaux in 1113 and was chosen abbot of Clairvaux in 1115. His writings reveal a solid grasp of biblical studies, spiritual theology and philosophy. Patron of Gibraltar and beekeepers.
Tuesday 21st August : St. Pius X (1835-1914)
Born Guiseppe Melchiorre Sarto in northern Italy in 1835. Cardinal Patriarch of Venice. He became Pope in 1903. Back then royalty and influential laity also had a say in the election of a Pope. Cardinal Rampolla received the most votes however the Archbishop of Krakow used the veto vote of Austria's Emperor which resulted in Cardinal Sarto being elected Pope. The year after his election Pope Pius X abolished that rule and since then only Cardinals vote on the election of a Pope. In his 11 year pontificate, he carried out key reforms in the Church. He encouraged pastoral liturgy and sacramental practice, especially of frequent communion, to which he admitted young children reversing the then practice of someone receiving Confirmation before Communion. He developed a reputation as being very friendly with children. During papal audiences, he would gather children around him and talk to them about things that interested them. His weekly catechism lessons in the courtyard of San Damaso in the Vatican always included a special pace for children. In the last months of this life, he witnessed the violence and destruction of World War I. Some say he died of grief - just three weeks after World War I started; he died on the night of 20th August 1914. Papal physicians had been in the habit of removing organs to aid the embalming process. Pius X expressly prohibited this, and none of this successors have allowed the practice to be reinstituted. He was the 257th Pope; beatified in 1951 and canonised in 1954 by Pope Pius XII. The only motto attributed to him is the one for which he is best remembered: instaurare omnia in Christo (to restore all things in Christ); these words were the last he spoke before he died.
Wednesday 22nd August : The Queenship of the Blessed Virgin Mary
During the Middle Ages Mary was venerated as queen of the angels and saints. Pope Pius XII prescribed the feast for the universal Church at the close of Marian Year o f1955. It is placed on this date to stress the connection of Mary's queenship with the Assumption.
Thursday 23rd August : St. Eugene (Eoghan)
He lived in the sixth century and was said to have been taken by pirates to Britain. On obtaining his freedom he went to study at Candida Casa. Returning to Ireland he made a foundation at Kilnamanagh in the Wicklow hills, but his principal foundation was at Ardstraw (Ard Sratha), Co. Tyrone. (Candida Casa was the name given to the church established by St. Ninian in Whithorn, Galloway, southern Scotland, in the mid fifth century AD.)
Friday 24th August : St. Bartholomew, Apostle
He preached the gospel in India. Patron saint of plasterers, tanners and leather workers.
It is good not to do evil.
But it's evil not to do good.
Pope Francis, 12/08/2018
World Meeting of Families 2018 Prayer
God, our Father,
we are brothers and sisters in Jesus your Son,
one family, in the spirit of your love.
Bless us with the joy of love.
Make us patient and kind,
gentle and generous,
welcoming to those in need.
Help us to live your forgiveness and peace.
Protect all families with your loving care,
especially those for whom we now pray:
(we pause and remember family members and others by name).
Increase our faith,
strengthen our hope,
keep us safe in your love,
make us always grateful for the gift of life that we share.
This we ask, through Christ our Lord.
AMEN
Mary, mother and guide, pray for us.
Saint Joseph, father and protector, pray for us.
Saints Joachim and Anne, pray for us.
Saints Louis and Zélie Martin, pray for us.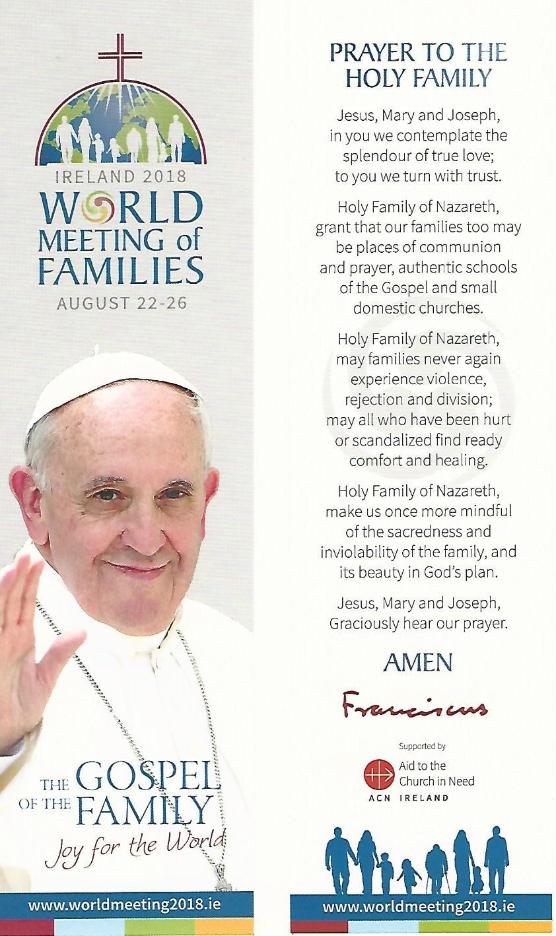 BEREAVEMENT
SUICIDE
DEPRESSION
DON'T DEAL WITH IT ALONE . . . .
SEE SECTION : "PERSONAL HELPLINES"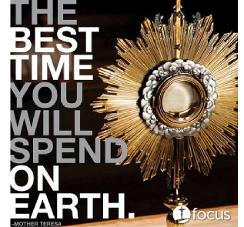 WEEKLY EUCHARISTIC ADORATION
Wednesday only from 11.00 a.m. - 8.00 p.m.
in Parish Rooms, Crossmaglen.
Everyone welcome, not just rota members.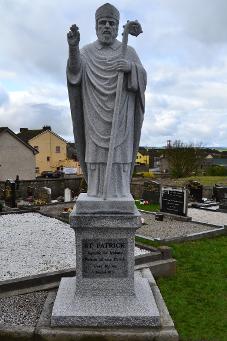 Christ be with me, Christ within me,
Christ behind me, Christ before me,
Christ beside me, Christ to win me,
Christ to comfort and restore me.
Christ beneath me, Christ above me,
Christ in quiet, Christ in danger,
Christ in hearts of all who love me,
Christ in mouth of friend and stranger.
(St. Patrick's Breastplate)
The statue of St. Patrick (Patron of our Parish), erected March 2012, at the front of St. Patrick's, Crossmaglen