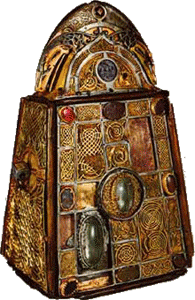 Welcome to the website of Upper Creggan Parish – and thank you for finding us. In this era of ever growing means of communication, our website aims to keep all members of our parish community, past and present; those here at home and those who have travelled to far-off shores; and our may friends, fully informed and up-dated on many aspects of parish life, ministries and services. In particular, we hope it will enable the sick and housebound and our many young emigrés to stay in touch with parish life through the weekly news sheet and other regular information updates.
For quite some years now all liturgies at our three parish churches are broadcast on radio. The website is an additional tool to help all whose lives are already busy to stay in touch with YOUR Parish.
Enjoy your time looking around our website, especially our Photo Gallery and, if like what you see or find it useful, please come back again soon.
Until then, may God keep us all true to Him, as together we seek to make His Kingdom come.
Fr Dermot Maloney, PP
LENT
Each year, God "gives us this joyful season when we prepare to celebrate the paschal mystery with mind and heart renewed … as we recall the great events that gave us new life in Christ" (Preface of Lent 1)
The celebration of the Paschal Triduum of Christ's passion, death and resurrection, calls us yearly to undertake a journey of preparation, in the knowledge that our being conformed to Christ (cf. Rom 8:29) is a priceless gift of God's mercy.
Let us not allow this season of grace to pass in vain!
Let us ask God to help us set out on a path of true conversion.
Let us leave behind our selfishness and self-absorption.
Let us stand beside our brothers and sisters in need, sharing our spiritual and material goods with them.
In this way, by concretely welcoming Christ's victory over sin and death into our lives, we will also radiate its transforming power to all of creation.
Taken from Message of His Holiness Pope Francis for Lent 2019
Thursday 21st March : St. Enda
His is considered to be one of the three great late vocations (athlaech) of Ireland. His sister, Faenche, a nun, set his thoughts on a religious vocation. He made a small foundation in Cell Aine, Co. Louth and, after studies in Scotland under Ninian, made several foundations in the Boyne valley. On Faenche's urging he went to Aran. He died probably in 520 and is considered as one of the early models of ascetic monasticism in Ireland.
Saturday 23rd March : St. Turibius of Mogorvejo (1538-1606)
He was a layman when he was appointed Archbishop of Lima, Peru by King Philip II. He combated all the abuses of the conquerors in Peru and built up the Church there.
(Mogrovejo - small village of the municipality of Camaleño on Cantabria, Spain)
Sunday 24th March : 3rd Sunday of Lent
Jesus illustrates from the recent local news how uncertain life can be; accidents and disasters continually remind us of that. We have indeed learnt that there is no such thing as an unsinkable ship, and so we are warned to work at our salvation. The image of the fruitless fig tree is used by Jesus to call us to repentance.
Repent, says the Lord, for the kingdom of heaven is close at hand.
Mt 4:17
Monday 25th March : The Annunciation of the Lord
Giving her consent to God's word, Mary becomes the mother of Jesus. Espousing the divine will for salvation wholeheartedly, without a single sin to restrain her, she gave herself entirely to the person and to the work of her Son; she did so in order to serve the mystery of redemption with him and dependent on him, by God's grace.
Lent is a reminder to stop, to return to the essential, to fast from all that is superfluous and distracting. It is a wake-up call for the spirit.
Pope Francis, 16/03/2019
FIRST HOLY COMMUNION
Clonalig PS - Saturday 4th May 2019 at 11.00 a.m.
St. Patrick's PS (English) - Saturday 11th May 2019 at 11.00 a.m.
St. Brigid's PS - Saturday 18th May 2019 at 11.00 a.m.
St. Patrick's PS (Irish) - Saturday 25th May 2019 at 11.00 a.m.
BLESSING OF THE GRAVES
Crossmaglen : Sunday 5th May at 7.00 p.m.
Creggan : Friday 24th May at 7.00 p.m.
Glassdrummond : Saturday 25th May at 7.00 p.m.
Shelagh : Friday 28th June at 7.00 p.m.
BEREAVEMENT
SUICIDE
DEPRESSION
DON'T DEAL WITH IT ALONE . . . .
SEE SECTION : "PERSONAL HELPLINES"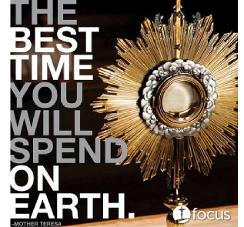 WEEKLY EUCHARISTIC ADORATION
Wednesday only from 11.00 a.m. - 8.00 p.m.
in Parish Rooms, Crossmaglen.
Everyone welcome, not just rota members.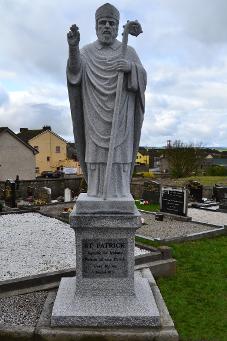 Christ be with me, Christ within me,
Christ behind me, Christ before me,
Christ beside me, Christ to win me,
Christ to comfort and restore me.
Christ beneath me, Christ above me,
Christ in quiet, Christ in danger,
Christ in hearts of all who love me,
Christ in mouth of friend and stranger.
(St. Patrick's Breastplate)
The statue of St. Patrick (Patron of our Parish), erected March 2012, at the front of St. Patrick's, Crossmaglen