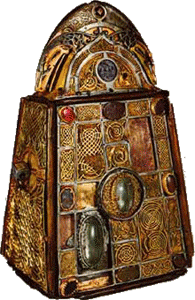 Welcome to the website of Upper Creggan Parish – and thank you for finding us. In this era of ever growing means of communication, our website aims to keep all members of our parish community, past and present; those here at home and those who have travelled to far-off shores; and our may friends, fully informed and up-dated on many aspects of parish life, ministries and services. In particular, we hope it will enable the sick and housebound and our many young emigrés to stay in touch with parish life through the weekly news sheet and other regular information updates.
For quite some years now all liturgies at our three parish churches are broadcast on radio. The website is an additional tool to help all whose lives are already busy to stay in touch with YOUR Parish.
Enjoy your time looking around our website, especially our Photo Gallery and, if like what you see or find it useful, please come back again soon.
Until then, may God keep us all true to Him, as together we seek to make His Kingdom come.
Fr Dermot Maloney, PP
Masses during Lent in our Parish:-
8.10 a.m. : St. Joseph's School
10.00 a.m. : St. Patrick's, Crossmaglen
7.00 p.m. : St. Patrick's, Crossmaglen
7.00 p.m. : St. Brigid's, Glassdrummond
7.00 p.m. : Sacred Heart, Shelagh
7.00 p.m. : St. Brigid's, Glassdrummond
7.00 p.m. : St. Patrick's Crossmaglen
In our preparation for Easter, God in his providence offers us each year the season of Lent as a "sacramental sign of our conversion". Lent summons us, and enables us, to come back to the Lord wholeheartedly and in every aspect of our life.
By devoting more time to prayer, we enable our hearts to root out our secret lies and form of self-deception, and then to find the consolation God offers. He is our Father and he wants us to live life well.
Almsgiving sets us free from greed and helps us to regard our neighbour as a brother or sister. When we give alms, we share in God's providential care for each of his children. If through me God helps someone today, will he not tomorrow provide for my own needs? For no one is more generous than God.
Fasting weakens our tendency to violence; it disarms us and becomes an important opportunity for growth. On the one hand, it allows us to experience what the destitute and the starving have to endure. On the other hand, it expresses our own spiritual hunger and thirst for life in God. Fasting wakes us up. It makes us more attentive to God and our neighbour. It revives our desire to obey God, who alone is capable of satisfying our hunger.
I urge the members of the Church to take up the Lenten journey with enthusiasm, sustained by almsgiving, fasting and prayer. If, at times, the flame of charity seems to die in our own hearts, know that this is never the case in the heart of God! He constantly gives us a chance to begin loving anew.
Taken from Message of His Holiness Pope Francis for Lent 2018
Sunday 18th February : 1st Sunday of Lent
St. Ambrose reminded the newly baptised of the water, the wood and the dove in the story of Noah. The water of Baptism saves us through the merits of Christ's death on the wood of the cross. The Holy Spirit breathed life into that water so that we might have fullness of life.
The time has come and the kingdom of God is close at hand.
Repent, and believe the Good News.
Mk 1:15
19th February is the anniversary of the episcopal ordination of His Eminence Cardinal Seán Brady in 1995.
Thursday 22nd February : The Chair of St. peter
This ancient feast relates to early Roman custom at this time of year or remembering the ancestors of the family, those who presided over the family fortunes. The feast celebrates Peter as bishop of Rome and the focus of unity in the communion of one faith.
Saturday 24th February : St. Polycarp
He was bishop of Smyrna or Izmir in modern Turkey. Born around the year 69, he was a disciple of St. John the Apostle. He was martyred in 155
We need the Holy Spirit to transmit the faith. We cannot do it alone.
Pope Francis, 13/02/2018
CONFIRMATION
Saturday 24th February 2018 at 11.00 a.m. in St. Patrick's Church
FIRST HOLY COMMUNION
Clonalig PS - Saturday 5th May 2018
St. Brigid's PS, Glassdrummond - Saturday 19th May 2018
St. Patrick's PS, Crossmgalen (Irish) - Saturday 19th May 2018
St. Patrick's PS, Crossmaglen (Eng.) - Saturday 26th May 2018
Shelagh PS - Sunday 27th May 2018
World Meeting of Families 2018 Prayer
God, our Father,
we are brothers and sisters in Jesus your Son,
one family, in the spirit of your love.
Bless us with the joy of love.
Make us patient and kind,
gentle and generous,
welcoming to those in need.
Help us to live your forgiveness and peace.
Protect all families with your loving care,
especially those for whom we now pray:
(we pause and remember family members and others by name).
Increase our faith,
strengthen our hope,
keep us safe in your love,
make us always grateful for the gift of life that we share.
This we ask, through Christ our Lord.
AMEN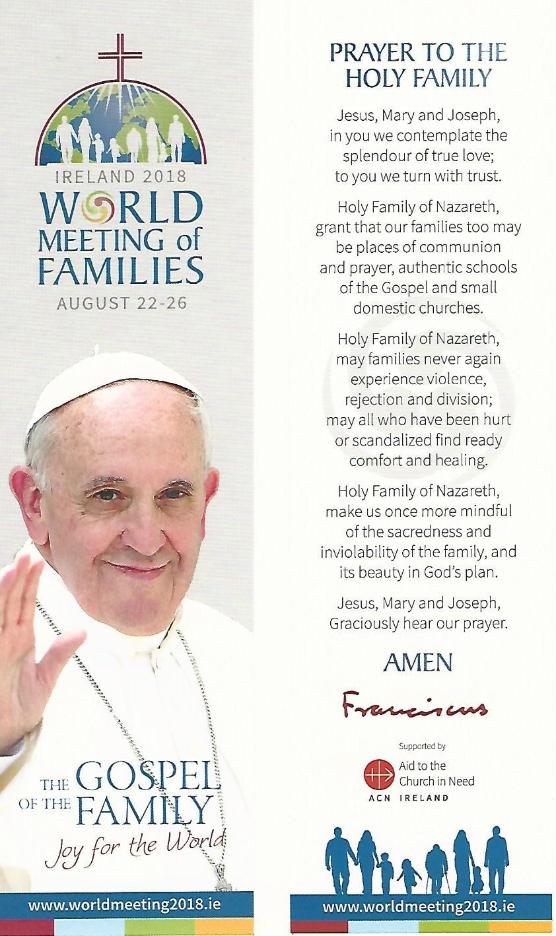 BEREAVEMENT
SUICIDE
DEPRESSION
DON'T DEAL WITH IT ALONE . . . .
SEE SECTION : "PERSONAL HELPLINES"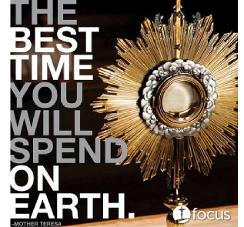 WEEKLY EUCHARISTIC ADORATION
Wednesday only from 11.00 a.m. - 8.00 p.m.
in Exposition Oratory, St. Patrick's Church, Crossmaglen.
Everyone welcome, not just rota members.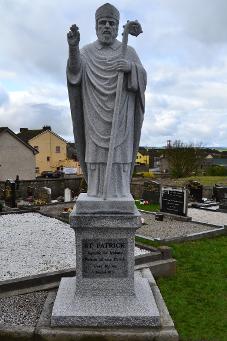 Christ be with me, Christ within me,
Christ behind me, Christ before me,
Christ beside me, Christ to win me,
Christ to comfort and restore me.
Christ beneath me, Christ above me,
Christ in quiet, Christ in danger,
Christ in hearts of all who love me,
Christ in mouth of friend and stranger.
(St. Patrick's Breastplate)
The statue of St. Patrick (Patron of our Parish), erected March 2012, at the front of St. Patrick's, Crossmaglen