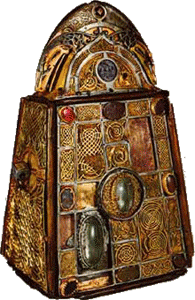 Welcome to the website of Upper Creggan Parish – and thank you for finding us. In this era of ever growing means of communication, our website aims to keep all members of our parish community, past and present; those here at home and those who have travelled to far-off shores; and our may friends, fully informed and up-dated on many aspects of parish life, ministries and services. In particular, we hope it will enable the sick and housebound and our many young emigrés to stay in touch with parish life through the weekly news sheet and other regular information updates.
For quite some years now all liturgies at our three parish churches are broadcast on radio. The website is an additional tool to help all whose lives are already busy to stay in touch with YOUR Parish.
Enjoy your time looking around our website, especially our Photo Gallery and, if like what you see or find it useful, please come back again soon.
Until then, may God keep us all true to Him, as together we seek to make His Kingdom come.
Fr Dermot Maloney, PP
FEASTS
Sunday 23rd June : Corpus Christi
"From this feast of Corpus Christi have originated many practices of eucharistic devotion that, under the inspiration of divine grace, have increased from day to day and that the Catholic Church uses eagerly to show ever greater homage to Christ, to thank him for so great a gift and to implore his mercy."
Pope Paul VI
I am the living bread which has come down from heaven, says the Lord.
Anyone who eats this bread will live for ever.
Jn 6:51-52
Monday 24th June : Nativity of St. John the Baptist
We rejoice at the coming of St. John the Baptist, a man of self-denial, integrity of life and purpose, and an uncompromising prophetic voice. John means "The Lord has shown favour". This feast relates to the summer solstice, when the days begin to grow shorter, recalling John's words, "He must increase, but I must decrease". Patron of Order of Malta. Son of Zachary and Elizabeth, he straddles both the Old and New Testaments. Besides Our Lord and Our Lady, St. John the Baptist is the only one whose birth and death are celebrated (Passion of St. John the Baptist 29th August).
Friday 28th June : Sacred Heart of Jesus
"We are celebrating the feast of the Sacred Heart of Jesus, and in the liturgy we peer, as it were, into the heart of Jesus opened in death by the spear of the Roman soldier. Jesus' heart was indeed opened for us and before us - and thus God's own heart was opened. God personally looks after me, after us, after all mankind. I am not abandoned, adrift in the universe and in a society which leaves me ever more lost and bewildered. God looks after me. He is not a distant God, for whom my life is worthless. Many perhaps did not even want God to look after them. They did not want God to get in the way. It is fine and consoling to know that there is someone who loves me and looks after me. But it is far more important that there is a God who knows me, he is concerned about me. This thought should make us truly joyful."
Pope Benedict XVI
Saturday 29th June : Ss Peter & Paul Apsotles
On the day traditionally considered in pagan Rome to be its foundation day by Romulus, we celebrate the twin founders of the Church in Rome.
St. Peter, originally called Simon, a fisherman who became leader of the apostles and the rock on which the Church is built, died by crucifixion in Rome around the year 64.
St. Paul, Saul the Pharisee, who became the "Apostle of the Gentiles", was martyred by beheading around the year 67.
Both proclaim with their lives that Jesus in the Christ, the Son of the living God.
Each one of us has infinite value for God:
we may be small under heaven and powerless when the earth trembles,
but for God we are more precious than anything.

Pope Francis, 16/06/2019
BLESSING OF THE GRAVES
Shelagh : Friday 28th June at 7.00 p.m.
BEREAVEMENT
SUICIDE
DEPRESSION
DON'T DEAL WITH IT ALONE . . . .
SEE SECTION : "PERSONAL HELPLINES"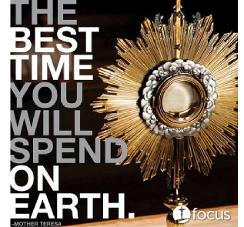 WEEKLY EUCHARISTIC ADORATION
Wednesday only from 11.00 a.m. - 8.00 p.m.
in Parish Rooms, Crossmaglen.
Everyone welcome, not just rota members.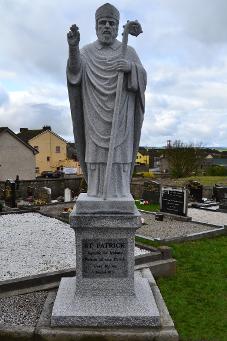 Christ be with me, Christ within me,
Christ behind me, Christ before me,
Christ beside me, Christ to win me,
Christ to comfort and restore me.
Christ beneath me, Christ above me,
Christ in quiet, Christ in danger,
Christ in hearts of all who love me,
Christ in mouth of friend and stranger.
(St. Patrick's Breastplate)
The statue of St. Patrick (Patron of our Parish), erected March 2012, at the front of St. Patrick's, Crossmaglen