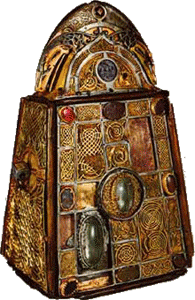 Welcome to the website of Upper Creggan Parish – and thank you for finding us. In this era of ever growing means of communication, our website aims to keep all members of our parish community, past and present; those here at home and those who have travelled to far-off shores; and our may friends, fully informed and up-dated on many aspects of parish life, ministries and services. In particular, we hope it will enable the sick and housebound and our many young emigrés to stay in touch with parish life through the weekly news sheet and other regular information updates.
For quite some years now all liturgies at our three parish churches are broadcast on radio. The website is an additional tool to help all whose lives are already busy to stay in touch with YOUR Parish.
Enjoy your time looking around our website, especially our Photo Gallery and, if like what you see or find it useful, please come back again soon.
Until then, may God keep us all true to Him, as together we seek to make His Kingdom come.
Fr Dermot Maloney, PP
Week of Prayer for Christian Unity begins Friday 18th January.
Theme: Justice and only justice you shall pursue (Deut 16:18-20)
As individual Christians and communities, we are called together to form a united witness for justice and to be a means of Christ's healing grace for the brokenness of the world.
Sunday 20th January : 2nd Sunday in Ordinary Time
World Day of Migrants and Refugees
The fulfillment of God's promise is compared to a wedding feast. The wine that flows in plenty speaks of the joy of the kingdom.
Monday 21st January : St. Agnes
Wealthy and beautiful, she was martyred for her virginity in the last persecutions in Rome, in the early fourth century. Patron of betrothed couples, gardeners and young girls.
On her feast day, it is customary for two lambs to be brought in to be blessed by the Pope. To symbolise St. Agnes's purity, the lambs are in baskets surrounded by flowers, one white and the other red - the colours represent virginity and martyrdom. On Holy Thursday the lambs' wool is removed and woven into the Pallium the Pope gives to a newly consecrated Archbishop. A Pallium is a stole made of while wool with six embroidered black crosses. Bishops wear them on their shoulders as a symbol of the Good Shepherd. Once woven, the Palliums are kept in an urn until the Pope gives them to the Metropolitan Archbishops on June 29th, the feast of Saints Peter and Paul.
Tuesday 22nd January : St. Vincent
Deacon of the church of Saragossa, Spain, martyred in 304 in Valencia after prolonged torture.
Thursday 24th January : St. Francis de Sales (1567-1662)
Bishop of Geneva, founder of the Visitation Sisters. He worked with gentleness and love to rebuild the Catholic faith after the Reformation. Patron saint of writers, editors and journalists.
Friday 25th January : Conversion of St. Paul, Apostle
St. Paul preached the power of God at work in the lives of each one of us. His own conversion shows that power in his life. Out of a persecutor God made a preacher and teacher of the peoples. Paul never ceased to express thanks and wonder for this grace, but he still prayed for perseverance.
Saturday 26th January : Ss Timothy and Titus
They were close to St. Paul as followers and later in their work with him. Tradition makes Timothy the first bishop of Ephesus. From Paul's advice to him to take some wine for his stomach's sake, he had been invoked as a patron in cases of stomach complaint. Titus was sent to organise the Church in Crete.
Let us look at our hands, often so empty of love, and today let us try to think of some gift we can offer freely.
Pope Francis, 14/01/2019
CONFIRMATION
Saturday 23rd February 2019 at 11.00 a.m. in St. Patrick's Church, Crossmaglen
FIRST HOLY COMMUNION
Clonalig PS - Saturday 4th May 2019 at 11.00 a.m.
St. Patrick's PS (English) - Saturday 11th May 2019 at 11.00 a.m.
St. Brigid's PS - Saturday 18th May 2019 at 11.00 a.m.
St. Patrick's PS (Irish) - Saturday 25th May 2019 at 11.00 a.m.
BEREAVEMENT
SUICIDE
DEPRESSION
DON'T DEAL WITH IT ALONE . . . .
SEE SECTION : "PERSONAL HELPLINES"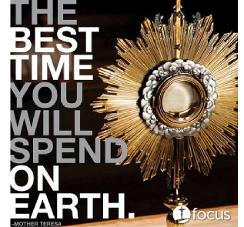 WEEKLY EUCHARISTIC ADORATION
Wednesday only from 11.00 a.m. - 8.00 p.m.
in Parish Rooms, Crossmaglen.
Everyone welcome, not just rota members.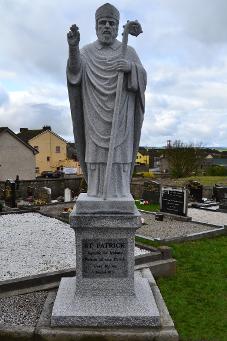 Christ be with me, Christ within me,
Christ behind me, Christ before me,
Christ beside me, Christ to win me,
Christ to comfort and restore me.
Christ beneath me, Christ above me,
Christ in quiet, Christ in danger,
Christ in hearts of all who love me,
Christ in mouth of friend and stranger.
(St. Patrick's Breastplate)
The statue of St. Patrick (Patron of our Parish), erected March 2012, at the front of St. Patrick's, Crossmaglen