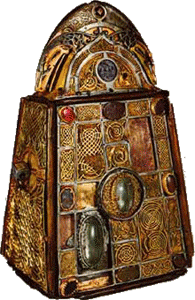 Welcome to the website of Upper Creggan Parish – and thank you for finding us. In this era of ever growing means of communication, our website aims to keep all members of our parish community, past and present; those here at home and those who have travelled to far-off shores; and our may friends, fully informed and up-dated on many aspects of parish life, ministries and services. In particular, we hope it will enable the sick and housebound and our many young emigrés to stay in touch with parish life through the weekly news sheet and other regular information updates.
For quite some years now all liturgies at our three parish churches are broadcast on radio. The website is an additional tool to help all whose lives are already busy to stay in touch with YOUR Parish.
Enjoy your time looking around our website, especially our Photo Gallery and, if like what you see or find it useful, please come back again soon.
Until then, may God keep us all true to Him, as together we seek to make His Kingdom come.
Fr Dermot Maloney, PP
Change to Mass Schedule
As a result of the retirement of Fr. King this summer it has become necessary to reduce the number of Masses in the parish at the weekends. Having discussed the issue at length with the Parish Pastoral Council it was agreed that the Mass schedule in the Parish beginning weekend 3rd and 4th of November would be as follows:
Saturday evening 6.30 p.m. St Patrick's
7.30 p.m. St. Brigid's
Sunday morning 9.00 a.m. St. Brigid's
10.30 a.m. Sacred Heart
Sunday 23rd September : 25th Sunday in Ordinary Time
The followers of Jesus must also share in his Passion. The very way of life of the Christian will be seen as a reproach to others and therefore to be opposed. The Christian will also be accused for not conforming to the world's values and standards. In all this we must look to Jesus, the model of the suffering servant.
I am the light of the world, says the Lord;
anyone who follows me will have the light of life.
Jn 8:12
Tuesday 25th September : St. Finbarr
He came to Loch Irce (Gougane Barra) and lived there as a hermit. When disciples gathered round him he moved to Cork at the mouth of the Lee where he founded a monastery that became a famous centre of learning.
Wednesday 26th September : Ss Cosmas and Damian
They were twins, born in Arabia, who practised the art of healing and attained a great reputation. They accepted no pay for their services and were, therefore, called anargyroi, "the silverless". In this way they brought many to the Catholic Faith. When the Diocletian persecution began, the Prefect Lysisa had Cosmas and Damian arrested, tortured and beheaded. The remains of the martyrs were buried in the city of Cyrus in Syria. Having been cured of a dangerous illness by the intercession of Cosmas and Damian, Emperor Justinian I in gratitude for their aid, rebuilt and adorned their church at Constantinople and it became a celebrated place of pilgrimage. In Rome, Pope Felix IV erected a church in their honour, the mosaics of which are still among the most valuable are remains of the city. Cosmas and Damian are regarded as the patrons of physicians and surgeons and are sometimes represented with medical emblems. They are invoked in the Canon of the Mass (Eucharistic Prayer I) and in the Litany of the Saints.
Thursday 27th September : St. Vincent de Paul (1580-1660)
Committed to care of the disadvantaged and the oppressed, he founded the Congregation of the Mission (the Vincentians) and the Daughters of Charity, the first sisters to work outside their convents in active service. Patron of all charitable works.
Saturday 29th September : Ss Michael, Gabriel and Raphael Archangels
Michael has been venerated as protector of Christians in general and soldiers in particular; patron of radiologists, the sick and paratroopers.
Gabriel brought the message to Mary at the Annunciation; patron of postal services, telecommunications, radio and tv workers
Raphael, guide to Tobias; patron of nurses, physicians and the blind.
Sunday 30th September : 26th Sunday in Ordinary Time
The community is always in danger from the corruption of pride and avarice. We must be prepared to listen to all prophetic voices in the Church that keep calling us back to purity of religion. Each baptised member is in some sense prophetic.
Your word is truth, O Lord, consecrate us in the truth.
cf. Jn 17:17
Monday 1st October : St. Thérèse of Lisieux
Born Marie François Thérèse Martin in Alençon, France. She was the youngest of nine children, 4 of whom died young. From an early age prayer and friendship with God were very important to her. After her mother Zélie died when Thérèse was only 4, her father Louis moved the family to Lisieux to be near Zélie's family. Thérèse and her sisters Marie and Pauline entered Carmelite community. Celine and Léonie cared for their father and after his death Celine entered the Carmelites and Léonie the Visitation community. Marie François Thérèse Martin died at the Carmel in Lisieux on 30 September 1897 having lived as a cloistered Carmelite for less than 10 years. Patron of missions, florists, aviators and France.

Tuesday 2nd October : Guardian Angels
We venerate the Guardian Angels, seeking their constant protection. Catholic tradition has recognised that not only individual people have guardian angels but also homes, cities and states.
"Our Guardian Angel is a friend we do not see, but whose presence we feel. He accompanies us on our earthly journey to heaven" Pope Francis.
Wednesday 3rd October : Bl. Columba Marmion
Joseph, his baptismal name, was born in Dublin 1 April 1858 and ordained priest in Rome, in 1881. He served as Curate in Dundrum Parish and then as professor in Holy Cross College, Clonliffe, before entering the Abbey of Maredsous, Belgium in 1886. Elected Abbot of Maredsous in 1909, he remained in office up to the time of his death on 30 January 1923. His trilogy, Christ, the Life of the Soul; Christ, in His Mysteries and Christ, the Ideal of the Monk have been some of the most influential spiritual writings of the twentieth century, nourishing the lives of generations of seminarians, priests, religious sisters and monks. His writings, letters and retreats fulfilled his aim in life: to bring people to God and to bring God to people. He was beatified in Rome on 1 September 2000.
Thursday 4th October : St. Francis of Assisi (1181-1226)
He abandoned all things for the love of Christ, founded the Friars Minor, and, with St. Clare, the Poor Clares. For the last two years of his life he suffered the stigmata. Patron of animals, merchants & ecology. Francis of Assisi, founder of the Franciscan Orders, is probably one of the best known permanent deacons, though many tend to assume that he was a priest.
Friday 5th October : St. Faustina Kowalska
(25/08/1905 - 05/10/1938)
Born Helena Kowalska in Glogowiec, Poland. She entered the Congregation of the Sisters of Our Lady of Mercy having experienced a vision of Jesus during which he instructed her to join a convent. On 22/02/1931 she was again visited by Jesus. She wrote in her diary "In the evening, I becme aware of the Lord Jesus clothed in a white garment. One hand was raised in blessing, the other was touching the garment at the breast. From the opening of the garment at the breast where came forth two large rays, one red and the other pale. In silence I gazed intently at the Lord; my soul was overwhelmed with fear, but also with great joy. After a while Jesus said to me, "paint an image according to the pattern you see, with the inscription: Jesus, I trust in You"." According to her diary, Jesus told her he wanted the Divine Mercy image publically honoured. In 1937 the first holy cards with the Divine Mercy image were created and Faustina provided instructions for the Novena of Divine Mercy. She was beatified on 18 April 1993 and canonised on 30 April 2000 by Pope St. John Paul II. Patron saint of Mercy.
Saturday 6th October : St. Bruno
He was born in Cologne in 1033. He became professor of theology in Rheims University and later its head. But his desire was to found a monastery where poverty, manual work, silence and worship would be the basics. He founded the Cathusians at La Grande Chartreuse, where he died in 1101.
Peace is a choice:
it cannot be imposed and it isn't found by chance.

Pope Francis, 21/09/2018
BEREAVEMENT
SUICIDE
DEPRESSION
DON'T DEAL WITH IT ALONE . . . .
SEE SECTION : "PERSONAL HELPLINES"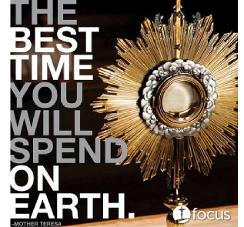 WEEKLY EUCHARISTIC ADORATION
Wednesday only from 11.00 a.m. - 8.00 p.m.
in Parish Rooms, Crossmaglen.
Everyone welcome, not just rota members.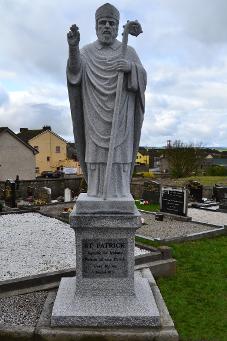 Christ be with me, Christ within me,
Christ behind me, Christ before me,
Christ beside me, Christ to win me,
Christ to comfort and restore me.
Christ beneath me, Christ above me,
Christ in quiet, Christ in danger,
Christ in hearts of all who love me,
Christ in mouth of friend and stranger.
(St. Patrick's Breastplate)
The statue of St. Patrick (Patron of our Parish), erected March 2012, at the front of St. Patrick's, Crossmaglen