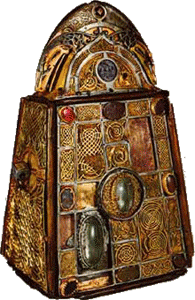 Welcome to the website of Upper Creggan Parish – and thank you for finding us. In this era of ever growing means of communication, our website aims to keep all members of our parish community, past and present; those here at home and those who have travelled to far-off shores; and our may friends, fully informed and up-dated on many aspects of parish life, ministries and services. In particular, we hope it will enable the sick and housebound and our many young emigrés to stay in touch with parish life through the weekly news sheet and other regular information updates.
For quite some years now all liturgies at our three parish churches are broadcast on radio. The website is an additional tool to help all whose lives are already busy to stay in touch with YOUR Parish.
Enjoy your time looking around our website, especially our Photo Gallery and, if like what you see or find it useful, please come back again soon.
Until then, may God keep us all true to Him, as together we seek to make His Kingdom come.
Fr Dermot Maloney, PP
LENT
Each year, God "gives us this joyful season when we prepare to celebrate the paschal mystery with mind and heart renewed … as we recall the great events that gave us new life in Christ" (Preface of Lent 1)
The celebration of the Paschal Triduum of Christ's passion, death and resurrection, calls us yearly to undertake a journey of preparation, in the knowledge that our being conformed to Christ (cf. Rom 8:29) is a priceless gift of God's mercy.
Let us not allow this season of grace to pass in vain!
Let us ask God to help us set out on a path of true conversion.
Let us leave behind our selfishness and self-absorption.
Let us stand beside our brothers and sisters in need, sharing our spiritual and material goods with them.
In this way, by concretely welcoming Christ's victory over sin and death into our lives, we will also radiate its transforming power to all of creation.
Taken from Message of His Holiness Pope Francis for Lent 2019
HOLY WEEK CEREMONIES IN UPPER CREGGAN PARISH
| | | | |
| --- | --- | --- | --- |
| Holy Thursday | Mass of the Lord's Supper | St. Patrick's | 7.00 p.m. |
| | Night Prayer | St. Patrick's | 9.00 p.m. |
| | | | |
| Good Friday | Celebration of the Lord's Passion | St. Patrick's | 3.00 p.m. |
| | Stations of the Cross | St. Brigid's | 7.00 p.m. |
| | Stations of the Cross | Sacred Heart | 7.00 p.m. |
| | Prayer around the Cross | Parish Rooms | 9.00 p.m. - 10.00 p.m. |
| | | | |
| Holy Saturday | Easter Vigil | St. Patrick's | 9.00 p.m. |
| | | | |
| Easter Sunday | Sunday Mass schedule | St. Brigid's | 9.00 a.m. |
| | | Sacred Heart | 10.30 a.m. |
| | | St. Patrick's | 12.00 noon |
Sunday 14th April : PALM SUNDAY
Holy Week begins on this day, which joins the foretelling of Christ's regal triumph and the proclamation of the Passion.
During Holy Week, the Church celebrates the mysteries of salvation accomplished by Christ in the last days of his life on earth, beginning with his messianic entrance into Jerusalem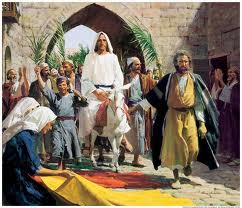 Wednesday in Holy Week
Spy Wednesday we call it - for Judas has left his mark on our calendars. The pain of his betrayal is to be felt in the account of St. Matthew's Gospel, and thirty pieces of silver goes into language currency ever since. At the end of this Lent, which has seen us trying to purify ourselves of all that is not Christian, these thirty pieces of silver come before us as a warning.
This year, Archbishop Eamon Martin along with the clergy of our diocese, will celebrate the Chrism Mass in St. Patrick's Cathedral, Armagh on Spy Wednesday at 7.00 p.m.
At this Mass, Archbishop Eamin will consecrate the holy chrism and bless the oils.
Chrism is used to anoint the newly baptised, in confirmation, ordination of Bishops and in rites of anointing pertaining to the dedication of churches and altars.
The oil of catechumens is used in the preparation of catechumens for their baptism.
The oil of the sick is used to bring comfort and support to the sick in their infirmity.
HOLY THURSDAY
The Easter Triduum begins with the Evening Mass of the Lord's Supper.
At this supper on the night he was betrayed, the Lord Jesus offered his body and blood to the Father under the appearances of bread and wine, gave them to the apostles to eat and drink, then enjoined the apostles and their successors in the priesthood to offer them in turn.
This Mass is, first of all, the memorial of the institution of the Eucharist - the Last Supper was the first Mass. It is also the memorial of the institution of hte priesthood and also of the love by which the Lord loved us even to death.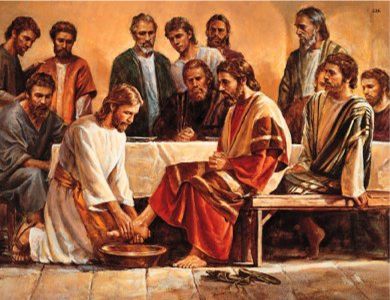 Celebration of the Lord's Passion
On this day when "Christ our Passover was sacrificed", the Church meditates on the Passion of our Lord, venerates the Cross and intercedes for the salvation of the whole world.
On this day, in accordance with ancient tradition, the Church does not celebrate the Eucharist; Holy Communion is distributed to the faithful during the celebration of the Lords Passion alone.
Good Friday is a day of Fast & Abstinence.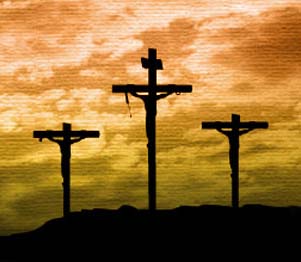 HOLY SATURDAY
On this day the Church is as it were at the Lord's tomb, meditating on his passion and death, awaiting His resurrection. The Church abstains strictly from the celebration of the Sacrifice of the Mass until the Easter Vigil that evening.
Easter Vigil: This is the night when the Church keeps vigil, waiting for hte resurrection of hte Lord and celebrates the sacraments of Christian Initiation. The full meaning of this Vigil is a waiting for the coming of the Lord. St. Augustine called it the "mother of all vigils". The Gospel of St. Luke (12:35) reminds the faithful to have their lamps burning ready, awaiting their master's return, so that when he arrives he will find them wide awake and will seat them at his table.
There are 4 parts of the Vigil: Service of Light, Liturgy of the Word, Liturgy of Baptism and Liturgy of the Eucharist.
EASTER SUNDAY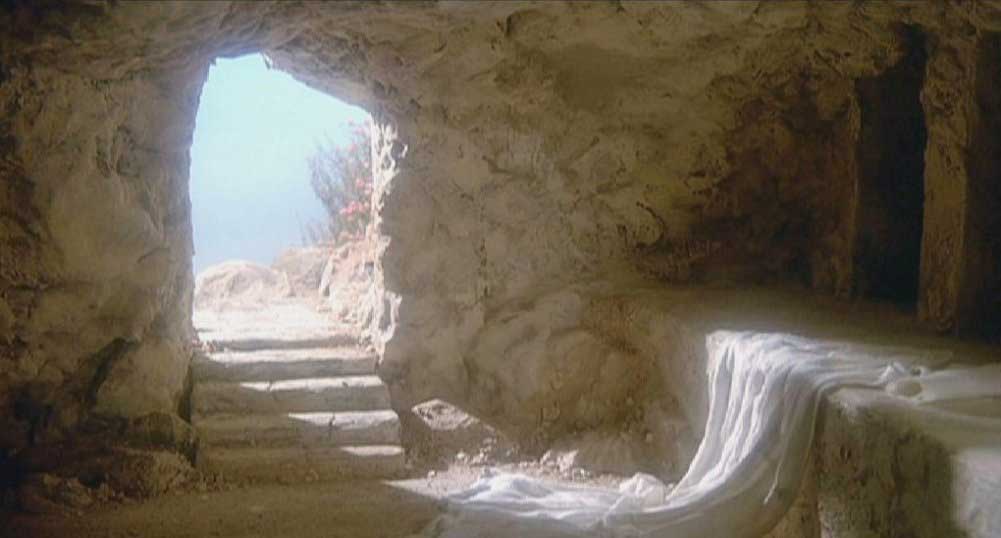 CHRIST IS RISEN, ALLELUIA, ALLELUIA!
When we pray, let us recall that we do so with Jesus. Jesus is our courage. Jesus is our security, who in this moment incercedes for us.
Pope Francis, 04/04/2019
FIRST HOLY COMMUNION
Clonalig PS - Saturday 4th May 2019 at 11.00 a.m.
St. Patrick's PS (English) - Saturday 11th May 2019 at 11.00 a.m.
St. Brigid's PS - Saturday 18th May 2019 at 11.00 a.m.
St. Patrick's PS (Irish) - Saturday 25th May 2019 at 11.00 a.m.
BLESSING OF THE GRAVES
Crossmaglen : Sunday 5th May at 7.00 p.m.
Creggan : Friday 24th May at 7.00 p.m.
Glassdrummond : Saturday 25th May at 7.00 p.m.
Shelagh : Friday 28th June at 7.00 p.m.
BEREAVEMENT
SUICIDE
DEPRESSION
DON'T DEAL WITH IT ALONE . . . .
SEE SECTION : "PERSONAL HELPLINES"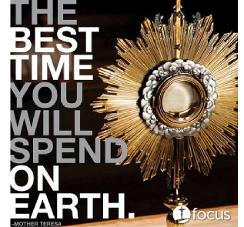 WEEKLY EUCHARISTIC ADORATION
Wednesday only from 11.00 a.m. - 8.00 p.m.
in Parish Rooms, Crossmaglen.
Everyone welcome, not just rota members.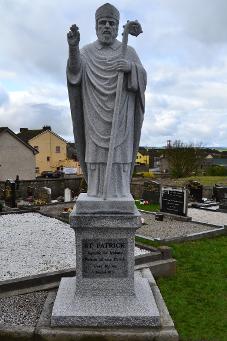 Christ be with me, Christ within me,
Christ behind me, Christ before me,
Christ beside me, Christ to win me,
Christ to comfort and restore me.
Christ beneath me, Christ above me,
Christ in quiet, Christ in danger,
Christ in hearts of all who love me,
Christ in mouth of friend and stranger.
(St. Patrick's Breastplate)
The statue of St. Patrick (Patron of our Parish), erected March 2012, at the front of St. Patrick's, Crossmaglen