Archbishop Eamon Martin's message for New Year 2022
The beginning of a New Year is always a good time for both looking back and for expressing hopes and dreams for the future.
The Word of God today invites us to seek a blessing for the New Year. The psalmist asks: "O God, be gracious and bless us". The Old Testament reading invokes the ancient priestly blessing:
"May the Lord bless you and keep you.
May the Lord let his face shine on you and be gracious to you.
May the Lord uncover his face to you and bring you peace (Numbers 6:23)."
In his message for today and the new year, the 55th World Day of Peace, Pope Francis observes that, sadly, in many places around the world, the "noise of war and conflict is intensifying, diseases of pandemic proportions are spreading, the effects of climate change and environmental degradation are worsening, (and) the tragedy of hunger and thirst is increasing."
Pope Francis urges us to show solidarity with those in our human family who are suffering and to "work together to build a more peaceful world, starting from the hearts of individuals and relationships in the family, then within society and with the environment, and all the way up to relationships between peoples and nations."
He suggests that one of the ways to build peace is by promoting dialogue between the generations, "between the keepers of memory – the elderly – and those who move history forward – the young". The Holy Father explains:
"Young people need the wisdom and experience of the elderly, while those who are older need the support, affection, creativity and dynamism of the young."
The importance of intergenerational partnership and dialogue on the island of Ireland came home to me last October when I joined with the other Church leaders to hold a Service of Reflection and Hope to mark the centenary of 1921. During the service I expressed a personal sense of sadness and loss at the partition of Ireland and, with my fellow religious leaders, I acknowledged that perhaps we in the Churches could have done more to deepen our understanding of each other and to bring healing and peace to our divided and wounded communities.
We were blessed that so many young people took part in that Service in Armagh and they made such a refreshing and positive contribution – their presence and their youthful voices and singing were full of confidence and hope that they can be the ones to help to build the bridges necessary to overcome the mistrust and divisions of our past.
As we begin a New Year, conversations are already taking place about what constitutional change and greater sharing on this island might look like. Intergenerational dialogue has much to offer these conversations – balancing reflection on the past with hope for the future. Clearly, the issues of legacy and the reality of trauma experienced by many families here must be included and handled sensitively in these conversations. Victims have spoken about the importance of continued access to justice, together with meaningful opportunities for truth and information recovery. No line can easily be drawn on our past and there is clearly much work to be done in exploring and building a unity of hearts and minds towards a shared vision for our future in this island.
Recalling words that he spoke a few years ago to the young people of the world, Pope Francis offers the following thoughts on this World Day of Peace:
"If, amid difficulties, we can practise this kind of intergenerational dialogue, 'we can be firmly rooted in the present, and from here, revisit the past and look to the future. To revisit the past in order to learn from history and heal old wounds that at times still trouble us. To look to the future in order to nourish our enthusiasm, cause dreams to emerge, awaken prophecies and enable hope to blossom. Together, we can learn from one another (Christ is Alive 199)'. For without roots, how can trees grow and bear fruit?"
Another helpful opportunity for dialogue between the generations emerges in the context of the global climate crisis. The voices of young people were loud and clear at the COP26 conference in Glasgow in October. Among these were young voices of faith, reminding us of our responsibilities under God to be caring stewards of creation – always alert to the protection of life and the dignity of all and to the disproportionate impact that climate change is having on those who are already vulnerable and on the margins. These young people are strongly committed to dialogue and mutual respect between faith and science, while remaining determined to call out needless waste, ruthless exploitation and destruction of our planet's resources. After all, they argue, the world not only belongs to us but to the generations who will follow us. In this case, therefore, intergenerational solidarity is not just an option, 'but rather a basic question of justice (Laudato Si 159).'
In commending and encouraging young people for speaking into the global climate crisis and seeking a more just world, Pope Francis makes an interesting, but alarming, observation on this World Day of Peace. He writes:
"In recent years there has been a significant reduction worldwide in funding for education and training … Military expenditures, on the other hand, have increased beyond the levels at the end of the Cold War and they seem certain to grow exorbitantly."
It is high time, Pope Francis says, that such a situation needs to be inverted. Governments should see the funding of education and training of our young people not as an expenditure, but as an investment.
Likewise, a fitting New Year's resolution for all of us in Church and in society, might be to invest more of our time and resources, listening, dialogue and prayer in our young people who are already making it clear that they see themselves not simply as our future, but also as essential and creative contributors to our present.
+ Archbishop Eamon Martin
Joint Christmas 2021 message from the Archbishops of Armagh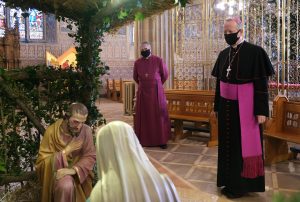 Just before Christmas 1937 Monsignor Ronald Knox wrote a letter to the English Catholic periodical The Tablet. Knox was the son of a Church of England bishop and had converted to Catholicism shortly after taking a brilliant First at the University of Oxford. He later became the first Catholic Chaplain to Oxford since the Reformation.
The letter arose from a remark that a friend of Knox's had made, that she "wasn't going to have her house turned upside down just because it was Christmas". Thinking afterwards about what she had said, Knox wrote in his letter, "What is Christmas from start to finish but things being turned upside down?"
Even the days, continually darkening in the run-up Christmas, turn with the solstice and light begins to win again. Just when trees should be at their barest, lustrous evergreen branches are brought indoors and enhanced with lights and glitter. And just at a time (especially in the ancient world) when darkness was a cover for thieves in the night coming to burgle homes, in our modern recasting of the story, a genial old boy squeezes himself down the chimney and leaves gifts.
Everything started to turn upside down from that first Christmas. Those who were least got the best places – the ox and the ass beside the manger and Kings asking directions from shepherds. Perhaps, the greatest revolution of all: the Virgin conceives and gives birth to a Child. The wonder of all this 'topsy-turvydom' is summed up in the words of the beautiful ancient hymn, sometimes sung at Midnight on Christmas Eve, "O magnum mysterium"!
O great mystery,
and wonderful sacrament,
that animals should see the newborn Lord,
lying in a manger!
Blessed is the virgin whose womb
was worthy to bear
the Lord, Jesus Christ.
Alleluia!
There is to a degree a natural instinct in us to try to turn the world back on its feet again, because God's coming into His own creation knocks us badly off balance. So we tie ourselves ever more tightly into the world of "getting and spending" and have communion in consumption. But we can't shake off the feeling that there is a fragility about our indulgence; that somewhere there is a frail seam that will give way; a nagging feeling that there will come a day when there won't be more tomorrow.
At this time of the year, perhaps, it is the very lavishness of Christmas that gives us a heightened consciousness of (and a bad conscience about) the "little ones" mentioned so often in the Gospels: the homeless, the poor, the rejected, and all those who long to see the world turned upside down again, when "the earth shall be full of the knowledge of the Lord, as the waters fill the sea".
At present there are many people who have had not just the two worst Christmases ever, but two of the worst years ever – those whose bodies have been overwhelmed, or whose minds have been scrambled by Covid-19; those who've had bereavements during the pandemic, whose plans have been cancelled, families separated, visits curtailed, operations postponed, businesses and livelihoods upturned.
If the Spirit is saying anything to the Churches this Christmas, might it not be to think about how we, as individuals, but also as a society, can enter prayerfully and hopefully into that great mystery of the "Word made flesh", and hold on to more of the upside down world embodied in the Gospel narratives?
Happy Christmas and may God bless you and your families
+ Archbishop Eamon Martin, Catholic Archbishop of Armagh. + Archbishop John McDowell Church of Ireland Archbishop of Armagh and Primate of All Ireland
Statement of Archbishop Eamon Martin on the publication of the report by the Commission of Inquiry into Mother & Baby Homes
"Above all we must continue to find ways of reaching out to those whose personal testimonies are central to this Report"
Archbishop Eamon
I welcome the publication of the Mother & Baby Homes Report. As a Church leader today, I accept that the Church was clearly part of that culture in which people were frequently stigmatized, judged and rejected. For that, and for the long-lasting hurt and emotional distress that has resulted, I unreservedly apologise to the survivors and to all those who are personally impacted by the realities it uncovers. Mindful of the Gospel of Jesus Christ, which calls us to protect life and dignity and to treat everyone – especially little children and all who are vulnerable – with love, compassion and mercy, I believe the Church must continue to acknowledge before the Lord and before others its part in sustaining what the Report describes as a "harsh … cold and uncaring atmosphere".
Although it may be distressing, it is important that all of us spend time in the coming days reflecting on this Report which touches on the personal story and experience of many families in Ireland. The Commission's Report helps to further open to the light what was for many years a hidden part of our shared history and it exposes the culture of isolation, secrecy and social ostracizing which faced "unmarried mothers" and their children in this country.
I ask all those who are in positions of leadership in the Church to study this lengthy report carefully and especially to spend time reflecting on the courageous testimonies of the witnesses to the Commission. Together we must ask "How could this happen?" We must identify, accept and respond to the broader issues which the Report raises about our past, present and future.
Above all we must continue to find ways of reaching out to those whose personal testimonies are central to this Report. They have shown determination in bringing to light this dark chapter in the life of Church and society. We owe it to them to take time to study and reflect on the findings and recommendations of the Report, and commit to doing what we can to help and support them. The Report makes it clear that many are still learning about their personal stories and searching for family members. The rights of all survivors to access personal information about themselves should be fully respected and I again urge the State to ensure that any remaining obstacles to information and tracing should be overcome.
The Commission believes that there may be people with further information about burial places who have not come forward. I appeal to anyone who can help to do so. All burial grounds should be identified and appropriately marked so that the deceased and their families will be recognized and never be forgotten.
This Report will hopefully speak not just to our past but will also have lessons for today and for future generations. As Church, State and wider society we must ensure together that, in the Ireland of today, all children and their mothers feel wanted, welcomed and loved. We must also continue to ask ourselves where people today might feel similarly rejected, abandoned, forgotten or pushed to the margins.
This report will stir many emotions as it further uncovers disturbing and painful truths about our past. I commend those who have fought to have this story told and I thank those who have already been supporting survivors through various organisations and providing a platform for their voices to be heard.
Archbishop Eamon Martin
13th January 2021
Dear brothers and sisters in the Archdiocese of Armagh,
Preparations are now well under way across the Archdiocese for the celebration of Christmas – albeit in a very different context this year. We extend our sincere gratitude to priests, parish teams and helpers who are planning to ensure that our churches are as safe as possible for people to confidently assemble for worship. We appeal to you all to cooperate fully with them.
We strongly encourage you to keep Christ at the centre of Christmas this year. Clearly it will be impossible for our usual large congregations to assemble for Mass on Christmas Eve or Christmas Day and we remind everyone that the obligation to attend Mass on Sundays and Holy Days remains suspended during the pandemic. But Christmas is about more than just one day. Families are welcome to attend Mass at some point during the twelve days from Christmas Eve to Epiphany. Christmas Masses will also be widely available over webcam and we strongly encourage families to "tune in" from the "domestic churches" of their living rooms and join with those who are gathering in their local churches in welcoming the birth of the Christ-child.
It is possible to experience the spiritual richness of this special season in many ways. Our homes can become "little churches" where we invite the Christ-child in. The age-old tradition of having a Christmas crib in the home and gathering there as a family to pray or to sing a carol will be especially meaningful this year. We also invite families or "household bubbles" to pay a visit to their local church at some time during the twelve days to offer a Christmas prayer at the crib and pray together for their families and for those particularly impacted by the pandemic.
The hope of Advent and the joy of Christmas inspire us to reach out to those in greatest need. Keep Christ at the centre this Christmas by bringing the hope and joy of his birth to people who are sick, isolated, lonely or poor. A simple act of kindness can make such a difference. Charities, including the Society of Saint Vincent de Paul, Trócaire and World Missions Ireland will welcome much needed contributions as they have been unable to raise funds in the normal way during the pandemic.
In your prayers this Christmas please remember those whose livelihoods have been seriously threatened by the pandemic. We think especially of people coping with bereavement, families that cannot be together, and those in care homes who can only have limited visits from their loved ones. We think also of those who cannot travel home for Christmas this year.
In some ways the Covid-19 restrictions open up greater opportunities for prayer and for reflection, for family time and space to enter into the true meaning of Christmas. This is also a good time to turn back to God. Although it may not be possible for all who wish to go to Confession to safely avail of the sacrament at this time, we encourage you to take a moment to place your trust in God's mercy through an Act of Perfect Contrition.
We thank you once more for the solidarity you have shown with our health workers and other carers by strictly observing public health advice. Please continue to do so over the Christmas season. Stay Safe and Pray Safe so that the New Year 2021 will see an end to the pandemic.
With every blessing to you and your loved ones this Christmas and into the New Year.
| | |
| --- | --- |
| Archbishop Eamon Martin | Bishop Michael Router |
Christmas 2020
Homily of Archbishop Eamon Martin for the First Sunday of Advent 2020
The First Sunday of Advent is the Church's New Year's Day and this year it dawns on a very different world – rocked by the impact of Covid19. Here in Northern Ireland, public worship has once more been suspended for two weeks in a so-called "circuit-breaker" lockdown, whilst south of the border, congregations can return to Mass and the Sacraments from Tuesday next. These are testing times, and it can be difficult for some of us to find the resilience to keep going. Still, we make sacrifices for the protection of health and life – especially for our elderly and other vulnerable family members. It is vital that we continue to show solidarity with doctors, health workers and other carers who are at the front line of tackling the virus – day in, day out.
They tell us these restrictions will help to "save Christmas" or ensure we can have a "meaningful Christmas". As Advent begins, I think it's worth asking ourselves: what does this mean – to "save Christmas"? What IS a "meaningful" Christmas?
I expect that for different people, Christmas means different things. Business owners have been speaking during the week about Christmas being their "most important time" – trading at this time of the year is essential for profit margins and to sustain the jobs and livelihoods of their staff. Others speak about the Christmas cheer and celebrations as being important for their mental and emotional health. Families fear that Christmas simply won't be the same if they cannot spend time at home with their loved ones. And, for some, Christmas might simply be a festive holiday for shopping, parties and presents – a kind of "binge-fest" to be followed inevitably by January sales, dieting and de-tox.
For Christians, however, Christmas has a profound meaning. It is a celebration of the most amazing and miraculous moment of all time – what we call the Incarnation – when God our Creator became a human being, born for the salvation of us all. The Word became flesh and lived among us! For Christians the Christ child of Bethlehem – truly God, yet truly a human person – is at the heart of Christmas. Jesus, born to be our Saviour, is the source of all our Christmas joy and celebration. His birth inspires the outpouring of love, generosity and goodwill that is associated with this time of the year.
Advent, beginning today, provides a four week prelude to pause and prepare to celebrate the wonder of the Incarnation. Advent is our annual "circuit-breaker" – a sacred time to step back from the normal routine and to reflect on the miracle and mystery of Christ's coming among us. The four Advent candles count down the Sundays – week by week – until on 25 December we rejoice that Christ our light has come into the world to dispel the darkness of sin and death.
Advent is a season of hope. How much our world needs hope: hope, that hearts which are often hardened by selfishness and greed may be opened up in generosity and care; hope, that those who have plenty will not forget the poor; hope, that those at war will work for peace; hope, that refugees will find a welcome, that the resources of our planet can be sustained and fairly distributed; hope, that the homeless can be sheltered, that fresh starts are possible and hurts can be forgiven; hope, that the dignity and life of every person can be protected.
Advent assures us that these hopes are not mirages or impossible illusions but truly achievable by the power of God's grace: the proof of this is in the reality of "the Word made flesh", that God the Almighty, the creator of the heavens and Earth and stars, became tiny, poor and vulnerable for our sake.
The Gospel message today is "Stay Awake! Be alert". Wise words indeed, because it is so easy amidst the rush of our crazy, consuming world, to miss the everyday wonders and miracles of love, beauty and truth; Or, to be so immersed in "getting and spending", that we fail to notice signs of the transcendent beckoning for our attention.
In a strange way, then, the current Covid19 restrictions might paradoxically help to open up extra space for the sacred this Christmas, to create a gap to let in the Spirit, presenting a quieter time with more opportunity for contemplation and prayer.
It is Advent that holds the key to "saving Christmas" and unlocking its true and powerful meaning. The season of Advent is a four week "circuit-breaker" in preparation for Christmas, a call to come back to God. Today's psalm response is "God of hosts, bring us back, let your face shine upon us and we shall be saved".
That might be our Advent song too. "God of hosts bring us back". Bring us back to the best that we can be. Bring us back this Christmas to what you want for us, for our families, our society, our country and our world.
Join us in #SharingHope this Advent Season.
Archbishop Eamon Martin has launched the 2020 online Advent Calendar, which will be live on www.catholicbishops.ie from the first Sunday of Advent, 29 November 2020.
Now in its seventh year, the unique online Advent Calendar offers resources for the parish, school and for families which can be accessed behind a virtual door each day during the season of Advent. The content is aimed at assisting people of all ages to pray and reflect on how best we can keep Christ at the centre of our Christmas preparations during this special liturgical season.
Welcoming this year's Advent Calendar Archbishop Eamon said, "While it is has been a very trying year for all us due to the Covid-19 pandemic, the season of Advent offers a new beginning and a promise of hope for better times. The First Sunday of Advent is actually the Christian Church's New Year's Day. This year – perhaps more than ever – we need more than ever ideas and inspiration to help us delve deeper during our hours of isolation and restriction, to find that glimmer of light, that note of joy, that promise of consolation. The virtual calendar offers ideas to help us spiritually prepare for our Lord's coming at Christmas with thoughtful reflections as well as challenges for change and conversion. Every day of our lives presents a moment to prepare for the coming of the Lord – we continually stay alert and prepared for the unexpected moment when the Lord comes to us in other people, in our daily experiences, including his presence in the sick, the poor and the stranger.
"Our Advent online calendar is a helpful resource on our 'journey' towards Christmas. By clicking on a virtual door we are inviting people to take just five minutes for reflection so as to find moments of peace and to rediscover the true meaning of Advent and Christmas.
"Since the outbreak of the pandemic the people of Ireland have endured testing times with courage, resilience, and compassion. Individuals and communities have made great sacrifices for the protection of life, health and for the common good. Many Christians have been reaching out in generous service and support for their neighbours, the lonely, the isolated, the sick and the bereaved. Faith, love and hope – in the home and in church – have been a huge support during these difficult times. As we continue, in solidarity, to progress together, I invite everyone to be part of #SharingHope this Advent season by availing of the helpful resources on our calendar and through sharing these with others on social media.
"The seasons of Advent and Christmas occur in the depth of winter reminding us that Christ was born to bring hope to a darkened world. As the prophet Isaiah said "the people that wait in darkness see a great light". During Advent, let us reflect on the eternal message of Christmas, which is, Christ is alive and that He is our hope."
A popular feature on the Advent Calendar is the audio thought for the day. Contributors this year will include bishops, priests, religious, laity, staff of the councils and agencies of the Irish Bishops' Conference, as well as primary, secondary and college students. The 2020 Advent Calendar will also include:
Mass Readings and Saint of the Day;

Family prayers;

Advent videos: blessing of the crib in the home, blessing of the advent wreath in the home;

The Words of Pope Francis from Christus vivit (Christ is alive);

Acts of kindness in the family, school and parish;

Suggestions to make Christmas more sustainable so as to care for our common home;

Seasonal prayers;

Resources for Advent including books and music;

Advent events in dioceses and parishes;

Information on Trócaire's Gifts of Love for 2020 as well special appeals to help families in need.
www.catholicbishops.ie/adventcalendar.
You can also follow updates on a special Advent Facebook page [Advent 2020] and on Twitter and Instagram using the hashtags #SharingHope and #LivingAdvent
Archbishop Eamon Martin is chair of the Council for Communications of the Irish Catholic Bishops' Conference.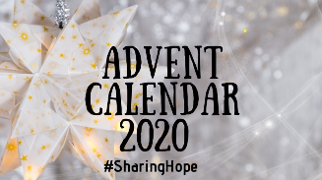 Archbishop Eamon Martin offers the following statement on An Taoiseach Leo Varadkar's statement regarding the resumption of services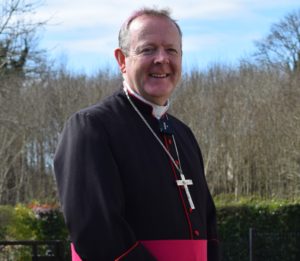 "Following today`s announcement by An Taoiseach Leo Varadkar that the public health restrictions due to COVID19 will be eased on 29 June to allow "places of worship to resume services again, with precautions", I welcome this news and like other priests in Ireland I am greatly looking forward to celebrating public Mass and the sacraments soon with our congregations.
I wish to commend dioceses and parishes for undertaking preparations to facilitate the safe return of the faithful to public worship in a measured way, and for their reaching out to parishioners in very difficult circumstances during the lock-down which included the broadcasting of Mass and other prayer opportunities by webcam.
Next week, the bishops of Ireland will meet for the first time over video-call for our Summer General Meeting. We will finalize our framework document for the return to Mass and the sacraments which will offer best practice to parishes as we begin to fully reopen parish life again.
It is my fervent hope and prayer that parishes in Northern Ireland will also soon be able to gather for public worship in the same way as parishes on the rest of the island.
During the pandemic we were unable to gather in the normal way for the Eucharist and other sacraments, but we have been alert to God's presence in the lonely and the suffering. Sadly the pandemic has brought great suffering to many families whose loved ones have died because of the virus. In a lot of cases it was not possible for family members to be by their side, or to be present at their funeral. God knows our grief and how much we need strength, courage, consolation and comfort at this time. As the restrictions ease the Church will continue to assist those in the greatest need.
Archbishop Eamon Martin
Join us in Prayer – Webcam Masses in the Archdiocese of Armagh during Coronavirus Pandemic
NOTES TO ACCOMPANY EPISCOPAL CONFERENCE GUIDELINES
OF 11-12 MARCH
2020 Archbishop Eamon Martin
Dear brothers and sisters,
During these difficult times I ask "let us pray for one another." As St Patrick's Day approaches let us pray his breastplate prayer and also turn to the Rosary and our other traditional family prayers that kept the faith alive in Ireland during centuries of persecution and turmoil. We are blessed to have social media resources in many parishes – let us use these to the full to keep our family of families together in prayer and reflection. Please share your webcam links etc. with each other so that as many people as possible can continue to be nourished by the power of God's Word and Sacrament during these uncertain days.
It is important to remind ourselves why we are introducing these restrictions. They are motivated by a sense of care for the common good and especially for those most vulnerable. We aim to minimise the movement of vulnerable people, including many of our faithful and most devoted parishioners – and our clergy! This is to protect them from the worst of this virus and to minimise the number of serious illnesses and fatalities. At the same time we want to reach out in Christian compassion and generosity of spirit to as many parishioners as possible through prayer and pastoral action. Each Christian community should be acutely aware of the responsibility to care for those who are most at risk. For example, even where it may not be appropriate to visit the elderly, a simple telephone call to enquire about their needs could mean so much to them.
Should public Masses go ahead?
In the current emergency situation, all are dispensed from the obligation to physically attend Sunday Mass.
I am advising that you inform your parishioners as soon as possible that the public celebration of Mass is suspended.
Please maximise the number of opportunities for participation in Mass via radio or webcam or other social media and let your people know via the website and facebook etc. how to access this. We will try to compile a list for the diocesan website in the coming days.
The idea of having small Masses of up to 100 people is intended to be an EXCEPTION rather than a rule and is mainly to facilitate the holding of funeral services or weddings for immediate family members and close relatives only.
I encourage all priests to continue to say their daily Mass privately and to remember the needs of their people. Try to encourage as many of your parishioners and others as possible to join in this via social media etc. We should all pray earnestly for one another and for those who are contracting the virus and for those who are caring for them at home or in hospital.
Funerals, Weddings and Baptisms
Please ask your local funeral directors to help you get the message across to families that no more than one hundred people should gather at any one time. These situations will have to be handled very sensitively and in a pastoral manner – remind everyone that this is for the safety of all concerned, especially the vulnerable. In any gatherings please also encourage safe spacing of a metre in accordance with public health authority advice and also to refrain from shaking hands or other physical contact as a means of expressing sympathy.
The same applies to baptisms and weddings – no more than one hundred close relatives or guests in the Church. Additionally at baptisms the blessing of water should be done without touching, the anointings should be with separate cotton buds and a single jug of water should be blessed and used for the pouring.
Pastoral Care of the Sick and Anointing
This is especially a time for praying for and caring for our sick and being conscious of the many health workers and carers who are selflessly looking after them in trying circumstances. Our priests and other pastoral workers must always follow the instructions of health authorities or those in charge of hospital wards or nursing homes re visiting etc. Cotton buds and/or sterile gloves must be used for anointing. In so far as possible, for the safety of the patient and the carer, all care must be without direct physical contact. All visits should be for a maximum of five minutes.
Other Gatherings
All Confirmations are postponed until further notice. Please reassure the children and their families that we will make new arrangements as soon as it is safe to do so.
First Confessions, Communions, etc. should also be suspended until further notice.
All non-essential pastoral gatherings and meetings, such as formation gatherings, retreats and seminars are cancelled. The rule of thumb is: if it is not necessary, postpone or cancel.
This is an occasion for all of us – especially in families – to pray more intensely for each other and especially for those who have succumbed to the illness. We should pray also for those at the frontlines – especially doctors, nurses and medical staff and other carers, including clergy – that the Lord will protect them as they place their own wellbeing at risk in the service of all.
Spiritual Communion in Your Heart
People can be reminded of the Catholic tradition of a spiritual communion in one's heart.
When we cannot attend Mass, we can still make an Act of Spiritual Communion, in which we express our faith in Christ and in His Presence in the Eucharist, and ask Him to unite Himself with us. The basic elements of an Act of Spiritual Communion are an Act of Faith; an Act of Love; a desire to receive Christ; and an invitation to Him to come into your heart. There are various popular prayers to accompany an Act of Spiritual Communion, eg:
My Jesus,
I believe that you are present in the Most Holy Sacrament.
I love you above all things, and I desire to receive you into my soul.
Since I cannot at this moment receive you sacramentally,
come at least spiritually into my heart.
I embrace you as if you were already there and unite myself wholly to you.
Never permit me to be separated from you.
Amen.
#LivingLent to bring us closer to God
Pope Francis' message for Lent: We implore you on behalf of Christ, be reconciled to God
Trócaire's Lenten campaign focuses on the theme of mothers protecting their families
Ahead of Ash Wednesday, which marks the beginning of Lent 2020, Archbishop Eamon Martin has launched the #LivingLent initiative on Twitter and Instagram. #LivingLent invites the faithful to use social media to grow closer to God during this sacred season.
Archbishop Eamon said, "As we prepare for Easter over the next 40 days, our spiritual conversion can be nourished by daily actions, thoughts, prayers and words. During Lent we also offer a particular sacrifice in our personal lives to help strengthen our relationship with the all-merciful Lord. In his message for Lent 2020 We implore you on behalf of Christ, be reconciled to God (2 Cor 5:20), we are encouraged by Pope Francis who reminds us, 'life is born of the love of God our Father from the desire to grant us life in abundance (cf. Jn 10:10)'."
Archbishop Eamon continued, "I invite everyone to read the Holy Father's short Lenten message. To complement his text our #LivingLent initiative on Twitter and Instagram, and online resources on catholicbishops.ie, offer suggestions for fasting, prayer and charity – the three pillars of the Lenten season. The objective of our Lenten digital initiative is to assist our spiritual preparation for the joy and hope of the Easter season."
The #LivingLent initiative offers short daily suggestions on Twitter and Instagram. These include prayer and scripture suggestions; opportunities for penance and fasting in our daily lives, for example fasting from gossip, fasting from negativity online, giving up certain foods; availing of the Sacrament of Reconciliation/Confession; suggestions of charitable acts like donating to Trócaire and other charities; donating your time by helping your own family, school, parish; and, by behaving in a charitable way towards all those whom we meet.
Everyone can use the hashtag #LivingLent and share with their followers how they are putting the themes of prayer, fasting and charity into practice during this Lenten season.
In addition, the 2020 Lenten campaign of Trócaire, the overseas development agency of the Bishops' Conference, focuses on the theme of mothers protecting their families. The Trócaire box tells the story of two mothers: Angela in Honduras who is protecting her family's land from logging companies, and Madris in Kenya who is trying to provide for her family in the face of climate change. It tells two very different stories but both are linked by mothers trying to provide futures for their children. See www.trocaire.org for details.
The liturgical season of Lent
Ash Wednesday is a day of fast and abstinence for Christians. For the believer Lent is the time of preparation for Easter and it commemorates the forty days which, according to the Gospels of Matthew, Mark and Luke, Jesus spent fasting in the desert before beginning His public ministry where He endured temptation. In Lent – through prayer, penance (including participating in the Sacrament of Reconciliation/Confession), acts of charity and self-denial – we are called to renewal of our Christian life in preparation for Easter:
Prayer
The Stations of the Cross, a devotional commemoration of Christ's carrying the Cross and of His execution, are often observed. As well as giving something up it is becoming more common to take something up as well and this may include taking time to volunteer, or spending more time in prayer.
Fasting and Penance
Penance is an essential part of the lives of all Christ's faithful. It arises from the Lord's call to conversation and repentance. Christians undertake penance: in memory of the Passion and death of Jesus; as a sharing in Christ's suffering; as an expression of inner conversion; as a form of reparation for sin. During Lent the faithful are asked to renew their practice of 'Friday Penance' by undertaking some of the following:
– abstain from meat or some other food
– make a special effort to participate in Mass on Fridays (in addition to Sunday)
– make a visit to the Blessed Sacrament
– abstain from alcoholic drink or smoking
– make a special effort to spend time together in family prayer
– make the Stations of the Cross
– fast from all food for a longer period than usual and give what is saved to the needy
– help someone who is sick, old or lonely.
Charity
Traditionally during Lent many of the faithful commit to fasting or giving up certain types of luxuries as a form of penitence, the money saved from this can be donated to charity, for example, contributing to their Trócaire box.
Archbishop Eamon Martin's homily and World Day of Peace Message for New Year's Day, 01/01/2020
Saint Patrick's Cathedral, Armagh
A living Christian faith emboldens us to promote a culture of life, to defend the unborn, to reach out to the homeless, to welcome the stranger, to visit the sick
Our country, north and south, truly needs the rekindling of wholesome relationships – socially and politically, nationally and internationally
When the hearts and consciences of individuals are moved and troubled by the plight of the suffering and the marginalised, that change begins to happen at a societal and global level. The voice of God, speaking in our hearts, stirs faith and moves us to action
I am looking forward to launching the 'one in ten' Rosary campaign – @1in10Rosary – to encourage at least ten per cent of the population to pledge to pray the Rosary, or a decade of the Rosary, every day for their personal conversion and for the transformation of Ireland
Homily and World Day of Peace message
At Masses on New Year's Day the ancient Blessing of Aaron is read from the Book of Numbers. Although the Blessing is two and a half thousand years old, its message is timeless:
'May the Lord bless you and keep you
May the Lord let his face shine on you and be gracious to you
May the Lord uncover his face to you and bring you peace (Numbers 6:22-27)'.
The beginning of a new year brings all sorts of speculation and predictions about what lies ahead – and all the more so this year which also sees the beginning of a new decade. A century ago the so-called 'roaring twenties' heralded for some people a high spirited, optimistic and prosperous age; but for many others, including here in Ireland, the early 1920's marked a time of recession, austerity and emigration against a backdrop of partition and civil war.
Who knows what the 2020's will bring? The newspaper columns these days contain a mixture of hope and uncertainty. All the more reason, then, to invoke today the Blessing of Aaron – to prayerfully trust that, even if we are somewhat anxious about what the future might hold, we are not alone. God walks the journey with us. God gives us what we need to make a difference – in our own lives, in the lives of our loved ones and community, and in the world. It is also good at this time of the year to make personal resolutions to change and to do better, believing that our lives can be aligned more closely with God's will for us and for the world.
Today marks the World Day of Peace. In his message for today, Pope Francis describes peace as "a great and precious value, the object of our hope and the aspiration of the entire human family". Pope Francis sees the desire for peace as something which lies "deep within the human heart" and he encourages us to keep on striving for peace despite facing sometimes "insurmountable obstacles".
"Let there be peace on earth and let it begin with me" – this popular song, heard a lot around Christmas and New Year, reminds us that we can make a difference. Our words and attitudes, our personal choices and behaviour – in public and on social media – can help to build peace and harmony rather than spread aggression and hatred. As the out-workings of Brexit begin to emerge, the early years of this decade will be crucial in sustaining peace and rebuilding relationships on the island of Ireland and between us and our neighbours in Britain and Europe. Archbishop Richard Clarke and I said recently that our country, north and south, truly needs the rekindling of wholesome relationships – socially and politically, nationally and internationally, and this will require men and women of integrity, generosity and courage to take the initiative in making these crucial relationships work.
Just as peace emerges from the depths of the human heart, so also do the answers to the greatest problems facing our country and world in this new decade. It is only when the hearts and consciences of individuals are moved and troubled by the plight of the suffering and the marginalised, that change begins to happen at a societal and global level. The voice of God, speaking in our hearts, stirs faith and moves us to action. In this way a living Christian faith emboldens us to promote a culture of life, to defend the unborn, to reach out to the homeless, to welcome the stranger, to visit the sick. It opens our ears to the "cry of the poor" and the "cry of the earth", calling us to wise stewardship of God's gifts of creation and personally to a more "responsible simplicity of life". A living Christian Faith inspires us to turn towards God in holiness of life, to seek forgiveness for our sins, and to make personal resolutions for change, not only at the beginning of a New Year, but continually on a lifelong journey of conversion.
At the beginning of this new decade it is therefore worth asking ourselves – does my faith in God make a real difference in my life? Does faith challenge me or have I settled for an "easy listening" comfortable way of living which allows me simply to go on the way I am, relaxed in my choices and perhaps even in my prejudices, in my abuse of created things, my sin and my disobedience of God's laws? If our only New Year's resolution was to be more authentic as people of faith, and to become courageous witnesses to Christ in the world, then with the help of God's grace and blessing, we can build together a more just and peaceful world for ourselves and others.
It is fitting that the first day of the New Year is dedicated by the Church to Mary, the Mother of God who, by pondering on the unfolding mystery of the life of Jesus, was able to face the future with hope and serenity and open herself up entirely to God's will for her. I invite you then to begin afresh this New Year your journey of faith – a journey nourished, like Mary's, by prayer and contemplation on the Word of God and on the mysteries of the life of Christ.
I am looking forward to launching next month the 'one in ten' Rosary campaign for the 2020's – @1in10Rosary – to encourage at least ten per cent of the population of Ireland to pledge to pray the Rosary, or a decade of the Rosary, every day for their personal conversion and for the transformation of Ireland. In July, I will lead a pilgrimage to the Marian Shrine of Fatima to dedicate this campaign to Mary and to pray that we can be, like her, courageous witnesses of faith. As pilgrims in Fatima we will remember in particular the witness of our Christian brothers and sisters who are persecuted in many parts of the world.
The Rosary has for centuries sustained faith and life in Ireland, and helped countless women and men to discover God's will in their lives. It can do so again, enabling us to be courageous witnesses, by pondering every day in our hearts, as Mary did, the deepest mysteries of our faith.
May the Lord bless this initiative for the 2020's here in Ireland, so that His face may shine on the people of Ireland, and be gracious to us, looking upon us with kindness and bringing us His peace. Amen.

Christmas 2019 message from the Archbishops of Armagh:
'A time for re-kindling …'
"Our country, north and south, truly needs the rekindling of wholesome relationships – socially and politically, nationally and internationally"
Together we wish you God's richest blessings this Christmas and through the year ahead.
These few days at the turn of the year offer an opportunity for people who are normally very busy to give worthwhile time to family and friends. It can also be a stressful and difficult time for people who feel estranged from friends and loved ones to whom they were once close, and for those who feel they have no-one they can truly call a friend.
Over Christmas and New Year many people are able to rekindle relationships that have somehow gone sour. We are all capable of bringing light and love into another person's life – perhaps someone for whom hope itself is fading, someone who desperately needs the rekindling of trust that only care and friendship can bring. Jesus Christ came into the world to bring us not only the light of his love but also the warmth of his friendship. Indeed, he assured his disciples that they were more than just "followers"; they were his "friends" (John 15.15).
Our country, north and south, truly needs the rekindling of wholesome relationships – socially and politically, nationally and internationally – and our prayer this Christmas is that men and women of integrity will find the generosity and courage they need to lead and take the initiative in making these crucial relationships work.
As our sharing in ministry here in Armagh will soon be coming to a close, we take this opportunity publicly to thank God for the warm friendship we have enjoyed together (and will continue to enjoy, albeit in a different mode), and we pray as one that 2020 may be a year of rekindling true friendship for all the people of Ireland.
+Eamon
Roman Catholic Archbishop of Armagh
+Richard
Church of Ireland Archbishop of Armagh
Message from the Bishops in Northern Ireland to voters ahead of the Westminster General Election 12/12/2019
It is twenty years this month since the Stormont Assembly assumed the full powers devolved to it as a result of the overwhelming support of citizens on this island for the Good Friday Agreement. The damaging consequences of the prolonged, ongoing failure to restore the institutions of the Agreement are becoming increasingly clear, especially their impact on the most vulnerable in society.
As the people of Northern Ireland return to the polling booths for the Westminster elections we encourage everyone to exercise their right to vote and also to take the opportunity 'on the doorsteps' to encourage all political parties to return to the Stormont Assembly as soon as possible.
Brexit
The run up to this election has been dominated by the issue of Brexit. No doubt the final outcome of Brexit will have a significant impact on the political, economic and social life of Northern Ireland, and its fragile peace. Whatever the eventual decision of the Westminster Parliament on Brexit, negotiations on the future relationship between the UK and the EU will be critical for our future. The people of Northern Ireland need competent voices to put forward their concerns on these issues and we encourage them to choose leaders who will value positive relationships both within and beyond these islands.
It is worrying that some see the uncertainty over Brexit as an opportunity to drag the community back to a violent past. We call on all political leaders to promote dialogue as the only way to resolve differences and to create a safe future for our young people.
Abortion law
On 21 October last the Westminster parliament liberalised abortion laws in Northern Ireland. This was a tragic day for the unborn children who will now never bless our world with their unique and precious lives. It was also a sad day for our local democracy as this draconian Westminster abortion legislation was introduced over the heads of local citizens. The right to life is not given to us by any law or government. Any human law that removes the right to life is an unjust law and must be resisted by every person, every voter, every political representative. For Catholic politicians this is not only a matter of protecting the human right to life but also a fundamental matter of Catholic faith.
We have consistently said that the equal right to life, and love, of a mother and her unborn child is so fundamental to the common good of every society that citizens deserve the fullest participation in the democratic debate about the legislation which governs it.
Similarly, the freedom of conscience of healthcare professionals and pharmacists needs to be respected and they should never be required to lend their support to an action which conflicts with their commitment to uphold life.
We ask all voters to respond to the current consultation on the draft Westminster abortion legislation and to leave their representatives in no doubt as to how they feel in these matters. We also call on people to continue to pray for a society which respects the equal right to life and care of a mother and her unborn child with a compassion that welcomes every child as a unique and wonderful gift and that supports women who find themselves in difficult circumstances.
Ahead of the general election on 12 December, voters have a duty to inform themselves about the position of candidates standing for election in respect of their willingness to support and cherish equally the lives of mothers and their unborn children. Candidates for election should also make clear their position on defending the innate dignity of every human being, from conception to natural death so that citizens can make an informed decision.
Welfare Reform
It is a matter of grave concern that payments under the welfare reform mitigation package for Northern Ireland are due to come to an end on 31 March 2020. This represents a 'cliff edge' for many already hugely vulnerable people receiving supplementary payments under this scheme across the North, including an estimated 35,000 households. Many recipients of mitigation payments are unaware that their income will significantly reduce in March under current legislation which means that the effects of these changes will be exacerbated. The unique circumstances of Northern Ireland which justified the introduction of these mitigation arrangements have not changed in the last four years. In fact, arguments have been made that stronger mitigation schemes are needed in light of growing challenges, including the introduction of Universal Credit and cuts to housing benefits in the private rental sector.
While we recognise that a programme of mitigations is not a long-term solution, there is a need for welfare reform to be analysed and treated differently in Northern Ireland. It should be acknowledged that a separate system of management for welfare schemes specific to the North may be necessary. The Department for Communities cannot amend the legislation to extend the mitigation payments in the absence of an Assembly, highlighting again the significant negative impact on all citizens in Northern Ireland across a range of issues due to the political stalemate. In the absence of devolved government, we call on politicians elected to Westminster to seek to ensure that the mitigation package does not end suddenly in March, and that appropriate legislation is enacted to prevent this.
Housing and homelessness
Pope Francis has said that 'There is no social or moral justification – no justification whatsoever – for the lack of housing'. We are concerned at the level of housing insecurity in Northern Ireland and the number of people, in particular families, facing homelessness. Many others are 'hidden' homeless as they seek to rely on family and friends for temporary accommodation, moving constantly with no stability. As bishops stated last year in their pastoral letter Room at the Inn?, the right to shelter, housing and a place to call 'home' is an essential human need and right. As the numbers facing housing precariousness and homelessness increase we need to look at how we have ordered society if we cannot meet these basic needs for our citizens. Housing provision cannot be left solely to the market to be treated as any other commodity. This ideological position has failed to provide for our society's housing needs. Where housing is not available for everyone then the State must step in to provide affordable social housing, introduce controls in the private rental market and exercise its responsibility to ensure the basic needs of its citizens are provided for. In considering candidates for election, it is important that these representatives are willing to take the necessary steps to address the current housing needs of our population.
Human trafficking
We have all been made aware recently of the atrocious scourge of human trafficking and of those who seek to exploit people forced to migrate to escape violence or natural disaster, or who hope to find a better life abroad.
Pope Francis has called human trafficking 'an open wound on the body of contemporary society, a scourge upon the body of Christ.' He has said that 'we are facing a global phenomenon that exceeds the competence of any one community or country' and, so we 'need a mobilisation comparable in size to that of the phenomenon itself'. Migrants are amongst the most vulnerable of our sisters and brothers. We can all empathise with their sense of desperation to reach a foreign shore with hope of finding safety and decent employment. In this context, following their election on 12 December, and irrespective of various ideological perspectives, we are urging all new members of the Westminster Parliament to serve the common good by allocating significant financial and human resources to tackling this critical issue and to commit to continue to work with European and international partners to combat this global phenomenon.
Conclusion
There can be no doubt that the forthcoming Westminster elections will be among the most significant in recent history for the future of the social, economic and political relationships within and between these islands. This brings an even greater responsibility on the followers of Jesus Christ to reflect conscientiously and in an informed way on the wide range of issues involved. We call for prayers for those who are standing for election to public office and for a respectful public debate about the important issues at stake.
Archbishop Eamon Martin of Armagh and Apostolic Administrator of the Diocese of Dromore; Bishop Noel Treanor of Down & Connor; Bishop Donal McKeown of Derry; Bishop Larry Duffy of Clogher; and Bishop Michael Router, Auxiliary Bishop of Armagh