Pastoral Council
The pastoral council was set up in 2008 and held its first meeting in late 2008. It was appointed to serve for a three year term. Its members are drawn from all three Church areas and are representative of different interest groups.
Chairperson: Mrs Rosemary Barry
Vice-Chair: Mr Michael McCreesh
Secretary: Ms Marie McArdle
Asst Secretary: Mrs Majella Hatzer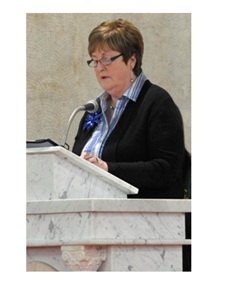 Rosemary Barry (Chairperson) - Michael McCreesh (Vice-Chairman)
Other members: Fr Dermot Maloney, PP, Fr Barney King, SM CC, Fr Kevin Cullen, CC, Deacon Paul Casey, John Ahern, Eleanor Cassidy, Rose Carragher, Threasa Donnelly, Ann Hughes, Mary Keating, Colm Luckie, Pattie McArdle, Michael McBride, Sally McKenna, Oliver Short, Browyn Trainor.
~~~~~
Finance Committee Members
Messrs: John Fee, Tony McEntee, Michael McArdle, Martin Watters, Nicholas Traynor, Fr Dermot Maloney, PP, Fr Barney King, SM CC, Fr Kevin Cullen, CC, Deacon Paul Casey.
~~~~~
Parish Safeguarding Representatives
Dora O'Neill, Tel (028) 3086 0992
Gerard Callan, Tel (+353) 861245168
Other parish groups
Appointments Committee (All salaried positions)
Buildings Committee
District distributors (Annual envelopes boxes)
Collectors and Collection counting teams
Baptismal Preparation Co-ordination
Marriage Tribunal Auditors
Eucharist Adoration
Choir Directors / Choirs
Altar Societies and Church Cleaners
Eucharist Ministers
Readers and Servers
School Governors
Parent Support Groups
St. Vincent de Paul
PTAA
District Lourdes Committee
~~~~~
Other Chaplaincies / Contact Priests etc
Hospitals If a parishioner would like a hospital visit from one of the clergy, please contact the Parochial House on 3086 1208.
Parish G.A.A. Clubs - Liaison Priests

Crossmaglen Rangers - Fr Kevin Cullen
Naomh Malachi, Shelagh - Fr Barney King
Silverbridge: Fr Barney King
Culloville GFC - Fr Dermot Maloney